Andy Cohen Reveals The Cities That Almost Had Real Housewives Franchises!
Greenwich, Connecticut, Chicago - oh my!
Lara Sophia June 3, 2019 9:00am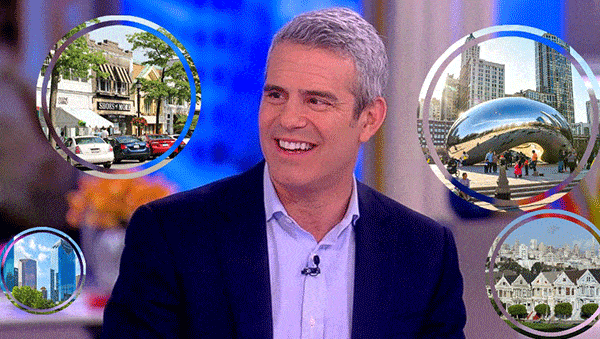 If you love Real Housewives I think you should know there could have been many more franchises for you to be obsessed with!
Sure we have drama from women in Orange County, New York City, Atlanta, New Jersey, Beverly Hills, Potomac, and Dallas BUT we could have had more!
Andy Cohen recently revealed the cities that ALMOST had Real Housewives franchises!
During a Q & A on the May 20th episode of Watch What Happens Live Andy Cohen was asked if we could expect any new Housewives franchises anytime soon.
"It seems like we're good right now," Andy admitted. Adding that the newest franchises Dallas and Potomac are just finding their strides after a couple of years in the game.
"I think Dallas and Potomac kind of took people by surprise. They've worked really well," he said. "Dallas had a breakout season last year, and Potomac's got it happening right now."
Real Housewives made it's debut in 2006 with the Real Housewives of Orange County and grew over the years to add all of the current franchises. Bravo also tried out franchises in Washington D.C. and Miami but those didn't last.
Andy then explained that there are a ton of cities that almost had Real Housewives franchises in them but in the end, it didn't work out.
"We've cast in some cities that we haven't wound up pursuing, like Greenwich, Connecticut and Chicago, and San Francisco and Houston. So there have been a lot of places that we've tried but just didn't work," Andy explained.
It turns out that there are special qualities that Bravo looks for when choosing a Real Housewives city.
"They're usually aspirational. They have their own identity," Andy explained. "You know, it's funny, they're the same kind of format if you want to call it a 'format,' but they all feel completely different, like really different ecosystems in every city. And so, that's really important, too."
But as we all know, it's the women, as much as the city, who make the show.
"You look for a group of friends. Producers bring in casting people, and they find women who are on the society pages and belong to country clubs. 'Who are your friends, and how do you know each other?'" Andy shared. "In the end, you kind of wind up with a reel of maybe 10 women who have some connections with each other. There's a little diagram that you look at."
Now that we know what cities could have been bringing Real Housewives drama to our TV screens – let's have some fun -Take our poll and let us know which city you wish Bravo would have used for the Real Housewives.
Tell us – Do you think Bravo should create more Housewives franchises? Which city would you like to see on the Real Housewives?
Source: BravoTV
---