Cat Got His Tongue! Andy Cohen Scrambles to Do Damage Control After Interview Supporting Kim Z.
Do you believe Andy's explanation?
Genny Glassman May 24, 2018 8:26pm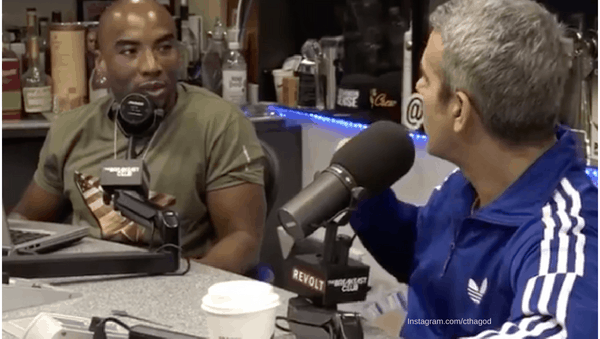 It looks like someone is trying to clean up the mess he made! Earlier this week, we reported on an interview that Bravo producer Andy Cohen gave, where he said that he felt bad that Real Housewife of Atlanta, Kim Zolciak, was "ganged up on" by the other castmembers. This sentiment, not to mention Andy's choice of words, were deeply frustrating to fans, who felt that the tirade that Kim went on was almost certainly racist.
In truth, it was not his best look.
Today, Andy did the messy work of trying to make amends for his poor choice in words. He made an appearance on the radio show The Breakfast Club, where he tried to explain what exactly he was trying to get at when he said that that he felt bad for Kim Z.
More from Taste of Reality: Kim Zolciak Defends Herself Against Claims That She's Racist
"I flip-flopped," he tells hosts, Charlamagne tha God. "I misspoke. I should not have said that she was ganged up on, what — I was frustrated by the tenor of the reunion. And what I was most frustrated in, was myself — and that's what I was trying to say." He says, in reference to the interview he gave earlier this week on The Jenny McCarthy Show. 
Though his sentiment in the interview he gave to Jenny McCarthy seemed to imply that he felt sympathy for Kim, (who you'll remember, had stormed off set  at the reunion and yelled at Andy that, "[it was] five African-American woman just f***ing hammering [me].") Andy makes it clear that his empathy for Kim did not extend to her belief that she was the victim of reverse-racism.
He adds that, "Kim was not a victim in this. [The other women on the reunion] were trying to hold her accountable and she was piss poor at taking any accountability for anything. The conversation was going around in a circle. And when I said that I wanted to walk off, it was because I just didn't have control of the room."
Andy, at a loss for words, ends his statement by saying, "It was not a gang up."
However, Charlamagne doesn't let Andy totally off the hook, "–You're flip-flopping again, Andy!" he interjects.
More from Taste of Reality: She Did It Y'all. Ashley Iaconetti and Jared Haibon From 'The Bachelor' are Finally Dating.
Andy later explains that he was frustrated in the reunion because Kim kept denying things that she had said during the season that upset the other castmembers, even though she had been caught on video. He says that he wanted to walk off set because things were going "absolutely nowhere" with Kim and that Kim has trouble discerning the "nuance of her words" when it comes to saying things with racial overtones.
"I know she has a real friendship with Shereé and I know she had a real friendship with Kandi. And I'm interested in what the two of them really feel about where she stands," he says. Okay, but don't make the hard work of sensitivity training the responsibility of Kim's POC friends.
In this case, we do find this explanation for Andy's intentions to be believable. If in no small part, because Andy was very vocal during the reunion in trying to explain to Kim why it was racist for her to insist that NeNe's house had roaches. Though next time Andy, it might help to think before you speak.
Do you buy Andy Cohen's excuse? Let us know in the comments!
---