Andy Cohen Slams Jeff Lewis in A Series of Private Texts
Jeff Lewis is starting to get messy.
Genny Glassman October 18, 2018 4:48pm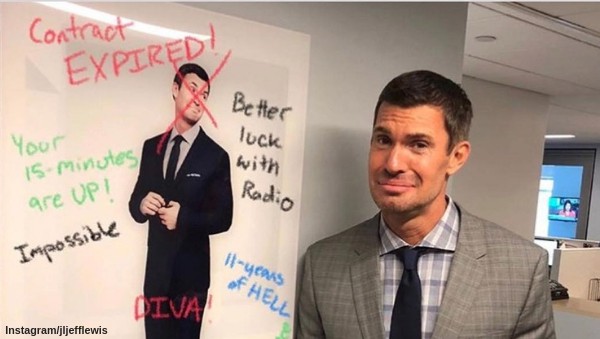 Flipping Out might be not be coming back next season, but it seems like star Jeff Lewis is going out swinging! According to People Magazine, on the most recent episode of Jeff's SiriusXM radio show Jeff Lewis Live, the former reality star admitted that perhaps there was some bad blood himself and his former boss Andy Cohen.
"As you know, Andy Cohen has been known to lose his temper with me," Jeff explained on while live on- air. "After 11 years, we've been very much of a sibling type of a relationship."
"I normally would never read his texts on air — but the reason I would read this is that he has changed his strategy with me," Lewis continued. "Yesterday, I think when it happened, he thought, 'I'm not getting through to him by screaming at him. I'm not getting through to him by writing nasty, threatening texts. I'm going to try a different strategy.'"
Jeff of course was referring to his most recent Instagram post, where he had made light of the alleged cancellation of his show. Though apparently Andy didn't think it was funny. Jeff said that Andy angrily texted him after the pic was posted, asking him just what he hoped to accomplish by posting the photo.
To which Jeff told him, "It's a joke. Didn't mean anything by it."
"Would it be funny to Bravo?" Andy supposedly asked.
"I hope so," Jeff answered,
Though Andy didn't seem to agree, "I highly doubt it."
Jeff assured Andy that he wasn't taking aim at Bravo, "I wasn't going after them in any way. Just making fun of the situation."
"Uh huh," Andy answered. "Looks to me like you're vilifying the network. They usually pick up shows after they finish their season. But maybe you want to let competitors know you are open for business, which you are definitely doing."
Jeff said that he was not "vilifying the network" and teased that he was "letting competitors know I'm a free agent."
"You're a very smart guy," Jeff added. "I'll be at WE in no time. I really do like everybody at Bravo. It's not personal."
But Andy wasn't so sure that Jeff was being truthful. "You're just pissing everyone there off again and making them think Bravo is cancelling the show, which doesn't make them look good," he told him. "If you're doing it to work somewhere else, I get it."
"I'm always open to working with and for Bravo,"Jeff told him . "There is no ill will from me."
But things got awkward later in the show, when Jeff said that Andy was texting him, trying to get him to stop reading their exchange on air.
"I thought he looked like a smart, rational guy when he was giving that advice,"Jeff said defending himself.
"He just said, 'You're an a**hole.' He said, 'Don't ever read my texts on air again. You're an a**hole,'" Jeff said. "I think we're back to the old strategy! God, he's funny."
Do you think Jeff was wrong for reading the private exchange? Let us know in the comments!
---