Andy Cohen Feels Caught in the Middle of Bethenny and Carole's Feud
Like Lisa Rinna says, a threesome never works.
Genny Glassman May 26, 2018 6:50pm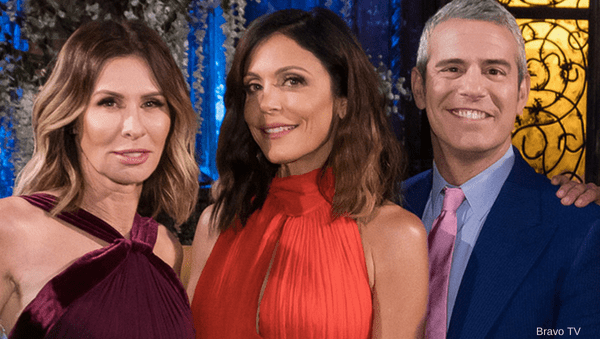 Can't we all just get along? Apparently not, according to Andy Cohen. The Bravo host spoke out about the ongoing battle between the Real Housewives of New York's former besties, Bethenny Frankel and Carole Radziwill, saying that the end of their friendship is "a bummer."
"I loved their friendship, I really did," Andy tells Page Six. "I knew Carole for years before she met Bethenny and vice versa."
Of course, we've always known that Andy and Bethenny have a special relationship outside of the show, but perhaps it shouldn't be so surprising that Andy and Carole have a history together. Both Andy and Carole worked in network news in the '90s and early '00s. Albeit, Andy worked at CBS and Carole worked at ABC. Though it's plausible that the two swam in the same circles.
Though this new tension between his pals could be putting a strain on his respective relationships with each of them, in a separate interview that Andy gave with E! News, he says that both Bethenny and Carole have kept him out of it. He tells the site that, "both of them understand my role and they understand that I'm friendly with the other person. So the last thing that I would want to be is in the middle of this feud, but of course by nature of what I do, it's where I find myself, in a weird way."
He continues that the reason for the feud, "is ambiguous" even to him, though we will eventually see more and more of the reasons for the split as the season goes on.
He tells Page Six that, "I remember when Jill [Zarin] and Bethenny fell out and I was upset about that. It's not fun to see friendships fall apart, its very relatable I think for a lot of women to watch two friends drift apart and wonder why and what's going on so I think it makes interesting television but it's real, so its tough."
It is sad to see a friendship end, especially one that was as strong as Bethenny and Carole's. But as we've learned from watching the show, nothing is ever easy with this group.
Have you ever been put in the middle of a friend-fight? Let us know in the comments!
---