An Open Letter to Camille Grammer
Emily Bertha May 2, 2019 3:56pm
After watching the recent episode of RHOBH where the conversation turns to "politics", I was shocked. Not only because the housewives tend to talk about Chanel bags not current events, but also because of the lack of outrage over Camille Grammer's comments regarding the Brett Kavanaugh trial.
A quick refresher: at a dinner for Lisa Rinna's mom, Lisa explains that Harry Hamlin wasn't in attendance because he was glued to the tv waiting to hear about the Kavanaugh trial. Camille immediately jumps in to give her unsolicited opinion because she's so "impassioned" about the hearing.
I understand that a reality tv site isn't exactly where people who want to read about politics visit. However, I think it's important to address what went down on the recent episode because in my unsolicited opinion, Camille's defense of an abuser is absolutely not okay.
Trigger warning: This post contains content related to sexual assault.
Camille states that she doesn't think there's enough evidence against the judge and that she doesn't necessarily believe the victims. I mean…what?! Camille's statement is even more shocking than the infamous table flip. All of the women seemed shocked when the former housewife came to Kavanaugh's defense, but it was Lisa Rinna who immediately spoke up. When I agree with Lisa Rinna, you KNOW something is really messed up.  Camille revealed that she was assaulted in the past which made it even more confusing as to how she could sympathize with such an awful man. I would think that someone who has experienced assault in the past would be even more empathic towards the victim, Christine Blasey Ford, who testified against the now Supreme Court Judge.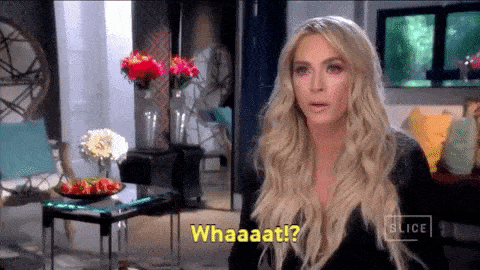 The fact that Camille sympathizes with Brett and his family is absolutely ridiculous. He. is. an. ABUSER. Camille personalizes this situation with Kavanaugh by comparing it to her nasty, public divorce.  Girl…no. In the former RHOBH star's case, her ex would have something to gain by accusing her of things she never did: a good guy reputation. Yet the victim testifying has nothing to gain.
Camille needs to realize that everyone deals with trauma differently. Just because Camille told her family and friends at the time about what happened to her doesn't mean everyone else should or does cope the same way. As Lisa and Teddi Mellencamp pointed out, many victims cannot safely rely their experiences, don't want to relive the experience, and fear they will suffer further or people won't believe them, as is evidenced by the Kavanaugh trial. And it wasn't just Christine; a number of other women have publicly accused Kavanaugh as well. Does Camille think that all these women somehow met by chance and decided to accuse Kavanaugh just for sh*ts and giggles? Why would they invest such time and energy and relieve their past traumas if the accusations weren't true? As stated earlier, the victim testifying has absolutely nothing to gain. In fact, she's received innumerable threats against her and her family, so she has everything to lose. She should be commended for her bravery.
I'm not denying that everything that happened to Camille, from her assault to the "smear" campaign lodged against her, was awful and undeserved. However, her comments on this matter lack empathy.
It's finally Kyle Richards who tries to steer the conversation away from "politics," but Dorit Kemsley said it isn't about politics, and I agree with her. It's about so much more. It's about a country completely ignoring horrific allegations and once again letting rich, white men do whatever they please with no consequences. It's about showing the world that victims shouldn't have to remain silent if they don't want to.
Of course everyone is entitled to their opinion, but Camille should recognize the impact of her words and what they really mean. She may be a friend of the show, but whether or not it's intentional, her comments make it seem like she is not a friend or supporter of any women.  I truly don't believe Camille is a mean hearted person, but she should take a step back, look at the situation objectively and then with empathy before making such comments.
What did you think of Camille's opinion on the hearing? Comment below!
---