Reality TV Executive Alex Baskin Sets the Record Straight on Real Housewives Drama
Dana Escamilla November 13, 2019 12:26pm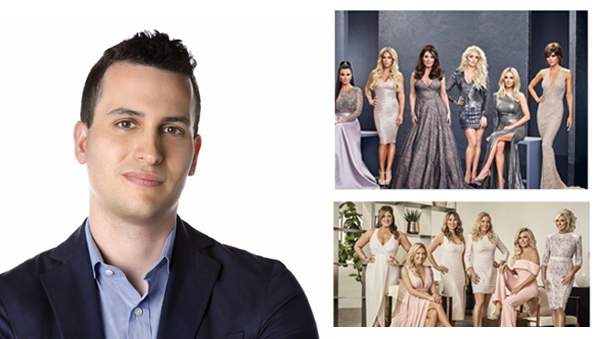 All is fair in love, war, and spreading Bravo-related rumors across blogs and social media. But just because it's fair doesn't make it true! 
Alex Baskin — president of Evolution, the company that produces RHOBH, RHOC, Vanderpump Rules and others — sat down with television and film producer Aliza Rosen for an episode of the Reality of Reality podcast to let fans in on what's really happening with Bravo's latest dish and to set the record straight on some current controversies. 
A few appetizers before we get to the entrée: 
Vicki Gunvalson knew she was going to be a "friend of" for Season 14 of Real Housewives of Orange County, so the rumors of bad blood with production are just that — rumors.
Bravo producers were NOT involved in the drama that led to Lisa Vanderpump's early exit from Season 9 of RHOBH — that was totally real.
In fact, producers take proactive steps to keep things real! They warn cast members to resist the urge to change behavior based on social media reactions from fans.
Alex held back when asked to name his favorite Housewife and wouldn't share details of the franchise's future expansion, but he didn't hesitate to get into a few hot topics. Let's dig in… 
🚨 Nope! RHOC producers didn't lie to the OG of the OC.
Ever since the moment clips surfaced of longtime Orange County star Vicki Gunvalson appearing as a "friend of" in Season 14, social media has been abuzz with theories that she was blindsided by the "demotion." 
Stop the rumor mill! Alex confirms that Vicki knew about the change in status before filming even began. "That was a series of difficult conversations," he says of the casting shake-up. 
"We love Vicki. She's incredibly important to this franchise. It was a different arrangement with her this year, but look at what she brought to the show." 
Now with a full love tank thanks to fiancé Steve Lodge, Vicki offered her usual dose of drama in the latest season. But her days are numbered (sorry, Vicki fans!). She announced that she'll be officially leaving the show as both a regular cast member and a "friend of." 
🚨 Don't blame producers for LVP's premature exit from RHOBH.
Real Housewives of Beverly Hills leads the franchise in ratings, according to Alex. But you can thank the cast's natural antics — he denies producers played any role in stirring the pot.  
Lisa Vanderpump's blowout kitchen fight with longtime friend Kyle Richards on Season 9 of RHOBH — the same argument that led to the iconic LVP's sudden disappearance from the show — was 100 percent authentic and not at all provoked by the production crew, Alex confirms. 
"Why would we do that?" Alex responds when asked whether the production team had any role in orchestrating the drama. 
In fact, Alex says the drama unfolded in a way his team never would have expected. "That was a really tough time," Alex recalls. "That's an example of something that is arguably good for the show, although it came at the expense of the show's relationship with Lisa. We felt for Lisa and felt for the rest of the cast because they also had a very hard time with it. It was not a fun season for anyone." 
Watching the drama unfold between former besties Kyle and Lisa was all the more difficult for Alex because of their shared history. "At the core, there is a real friendship there and they went through a lot together," he says on the podcast. 
"There's an intensifying factor of being on the show together where only they know what it was like to make all of those seasons of television and go through all that entails." 
On a related note, Alex's personal relationships with Housewives cast members may make it heartbreaking for him to witness these kinds of fallouts, but he also set the record straight about one relationship, in particular. Rumors that he's dating former RHOBH star Brandi Glanville are NOT true, he insists.
🚨 What really goes into selecting a location for cast trips for  Bravolebrities? 
Every season, Housewives jet off to an exciting location, where booze flows (often) and relationships are (almost always) tested. According to Alex, producers work directly with local tourism boards to pull these trips off. 
"It's harder and easier to put together the trips," Alex explains. Resorts and travel locations "want to be showcased on the shows because they have really good audiences, really affluent audiences. And let's face it — it's fun to watch the women on the trips and then get ideas for your own travels," he adds. 
But the popularity of travel episodes has also made selecting new locations more challenging. "All of the franchises have kind of been anywhere and everywhere, and so it can be hard to come up with new and fresh locations." 
Bottom line: We'll just have to tune in to future seasons to see how they get creative!
As for the trend of bringing beauty services on the road for max gorgeousness all over the world? Alex says you can thank RHOBH star Erica Girardi. "I would say Erica ushered in in the era of the glam squad," he says. 
For the Housewives, glam squads are part of, well, reality, so their introduction has been an exciting addition to the shows over the last few years, especially on cast trips. 
🚨 When on-camera behavior changes based on social media gossip — it's just not a good look on anyone. 
Even reality TV superstars can fall victim to the pressures of social media. Bravolebrities who are especially plugged into Instagram and Twitter have been known to change their behavior during filming in hopes of getting better feedback from their followers when the new season airs… but producers warn against it. 
In Alex's experience, when social media calls the shots, audiences are quick to pick up on it — then it's only a matter of time before accusations of phoniness fly! As producers begin to sense the tides turning on any one of their cast members, they typically meet with them about it and advise them to ignore the social media commentary when it comes time to start filming again.
If all else fails, Bravo executive producer and reality TV king Andy Cohen can always be the one to set things back on track. According to Alex, cast members don't give Andy much of a break. 
"He is bombarded by them all the time," he says. "I don't think these women stand on ceremony for anyone."
Want more inside scoop on the reality TV real deal? Subscribe to REALITY OF REALITY, hosted by TV and film producer Aliza Rosen. 
Every week, new episodes include interviews with heavy hitters in unscripted content and break down the best shows, movies and books you want to be watching. Hear from top industry producers, directors, network execs, reality stars, authors, and agents as Aliza uncovers behind the scenes stories from the makers and shakers themselves.
---