90 Day Fiance's Evelin Villegas Shades Aladin Jallali
Evelin also commented on the rumors of Laura Jallali's relationship with Raul Cabrera.
Ashley Hoover Baker October 24, 2019 4:03pm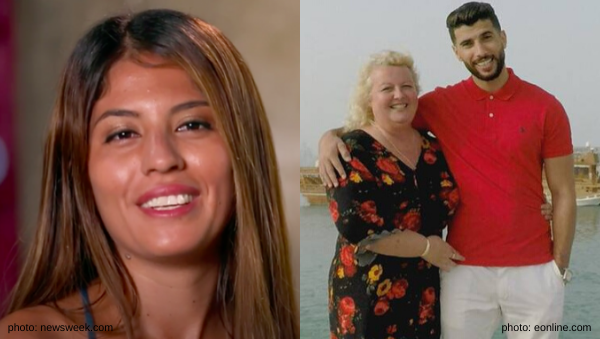 90 Day Fiance: The Other Way star, Evelin Villegas, throws shade at co-star, Aladin Jallali, for his failed relationship with her friend, Laura Jallali. Aladin said he was officially over it, "because she has publicly stated that she is with another man even though we are not divorced yet."
Evelin spoke to In Touch on October 24. She shared her thoughts about Laura and Aladin's failed relationship, sticking up for her friend. Evelin claimed Aladin is not being honest about his reasons for splitting up. "Aladin can come up with a better excuse, but he should just come up clean and say the real reasons why he broke up with her."
Why did Evelin feel a need to comment? Her goal was to clear the air after hearing that Aladin wasn't open to reconciling with Laura because he believes that she's in a relationship with Raul. "Me, Raul and Laura are good friends," Evelin told In Touch.
"'What Aladin is saying is a lie, Laura met Raul a month ago and we are all good friends. Aladin decided to break up the marriage with Laura back in July when we filmed the tell-all … I'm still not clear about his reasons but thats their problem not mine.'" [sic] she continued, while clarifying that Raul and Laura "are just friends.'"
Evelin wasn't the only with something to say. Check out Aladin's most recent Instagram post…
If you missed Laura and Aladin's sex toy saga, click here for a reminder. Oh! In case you missed it, Laura went on the Bring Me Your Torch podcast to spill all the tea about Aladin's 'big personality change.' Here is a link to an article I wrote yesterday recapping the dirt.
If you can't get enough 90 Day Fiance gossip, you have to listen to Pink Shade With Erin Martin. Not only does she give the funniest 90DF recaps, she also discusses the Real Housewives and Love After Lockup. Click here for her most recent episode.
It's said that there are three sides to every story: his, hers, and the truth. Now, with Evelin's commentary, we are up to four. Whose side are you on? Leave Team Laura or Team Aladin in the comments.
---