90 Day Fiance The Other Way Recap: Walking A Tightrope
Will Jihoon grow up? What is Sumit's secret?
Erin Martin September 3, 2019 7:00am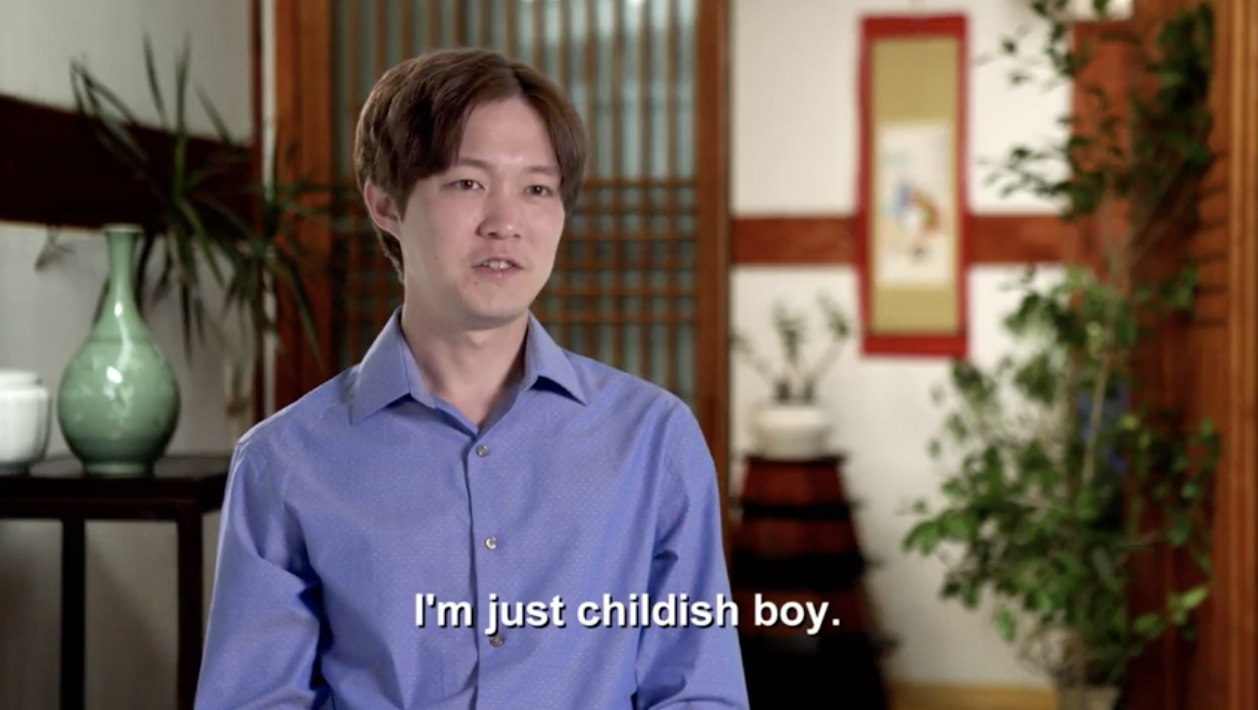 We are pulling back on all of the Cory and Evelin snark this week on 90 Day Fiance The Other Way because of the tragic circumstances going on in Corey's life (at the time of filming). My heart truly goes out to him. Corey found out that his father passed away unexpectedly after being rushed to the hospital for pancreatitis. He was only 62-years old.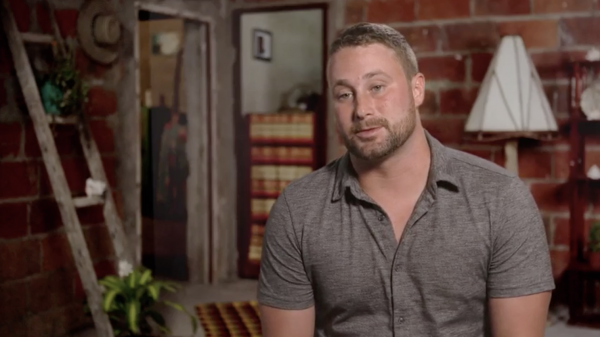 In total shock, Corey explains how he needs to go home to be with his family, and how much he absolutely loved and depended on his father. It's heartbreaking.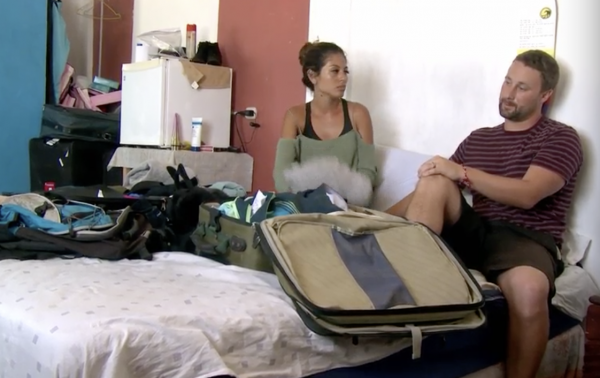 "I hope one day I can be like him," says Corey. To her credit, Evelin tells Corey that he's the best man she's ever met, and it's all thanks to his father. "Hopefully I can be a support for you when you come back," offers Evelin. We hope so too.
Now let's check in with the rest of our gang, who brought us a mixed bag of trash and hope. 
Deavan & Jihoon
Deavan lands in South Korea with baby Taeyang only to find out that Jihoon hasn't prepared jack squat for their arrival. He doesn't have a job, a home, or even (until the last minute) a frigging car seat! "I am the dad, but I fail," sighs Jihoon. Well, at least he got a haircut. 
One hour after Deavan lands from her 24-hour flight, she's still waiting at the damn airport while Jihoon straps the car seat in last-minute and loads his dog into a man purse. Finally, he shows up to collect his exhausted fiance and baby, who both deserve an enormous apology right about now. Instead, he just says, "Oh! My mistake," when Deavan scolds him and reminds him that she already brought a car seat along with her. Omg.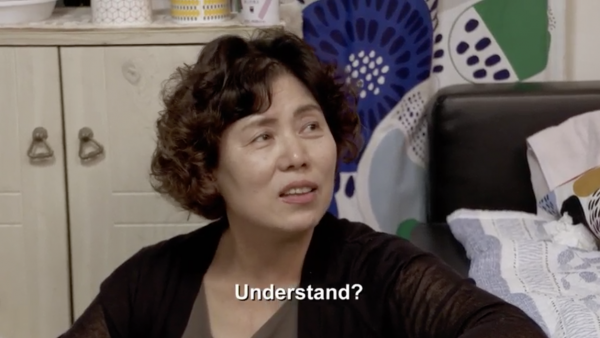 On the way back to their Hamily Home, Deavan grows increasingly pissy about the fact that Jihoon did NO planning for her arrival. Jihoon's parents' home is so small, they don't even have their own room. And now Deavan is expected to bring two children into this situation? Damn. Jihoon needs to grow the eff up. Even he admits he's still a "childish boy."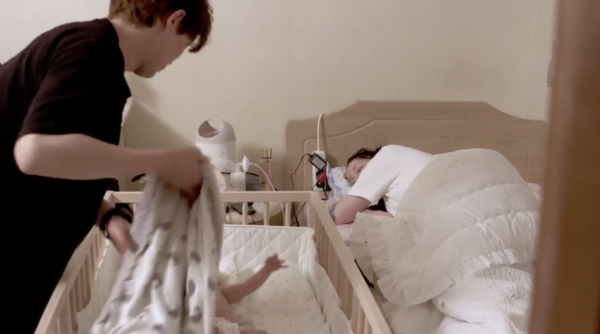 At least Grandpa & Grandma are the absolute sweetest. And they totally rip Jihoon a new one for being such an immature idiot for good measure. So, the situation is not totally awful, even though Jihoon is sleeping on the floor and has no real job prospects or savings or plans to house his Hamily. (Okay, yeah…it's awful.) 
Tiffany & Ronald
Over in South Africa, Tiffany has to accompany a very tense Ronald to the car shop. He's not to be trusted with cars or credit cards or access to family fridges just yet. "I'm not a five-year old!" complains Ronald. But, ermmm, he sort of is – as evidenced by his toddler meltdown in the car when he finds out that Tiffany forgot her purse by mistake. "Oh for f**k's sake! This inconvenience stops today! If I want to drive f**king alone next time, I'll f**king do it!" he shouts like a maniac.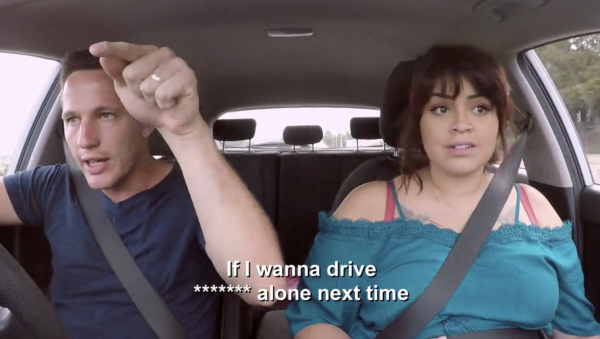 Tiffany's like, "I advise you to shut the f**k up right now." But, seriously. She should be advising herself (retroactively) not to marry a man fresh out of rehab, then get knocked up 6 seconds later. What a sh*tshow.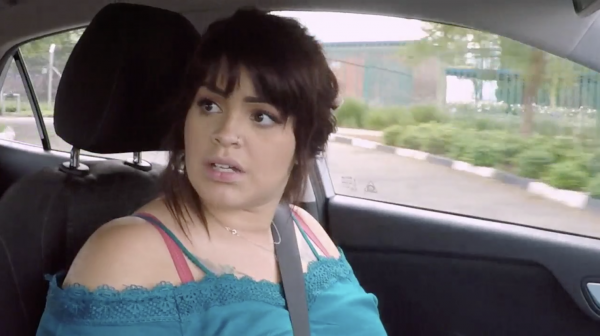 Back home, Tiffany reminds Ronald that trust isn't built in a month, and it doesn't matter if he apologizes (which he does) for being a douche (which he was) – he needs to work on remaining calm. "You're a husband. Act like one!" says Tiffany. Ronald whines that he doesn't want to always be reminded of the past, but Tiffany isn't ready to let the past go. She went through a lot of bullsh*t to get to this place in their relationship, and he needs to remember that. 
Hmm. Tiffany also needs to remember that she decided to marry this dude before he's even proven himself to be trustworthy. Thus, they are in for a turbulent ride. 
Paul & Karine 
Since their fight, Paul has been in the doghouse. Not the literal doghouse that he likes to chant "CALM CALM CALM" in, but the metaphorical one Karine sent him to in the wake of divorce threat #867. Seriously, these two are toxic and need to go their separate ways for good…even though we know they won't. Sigh.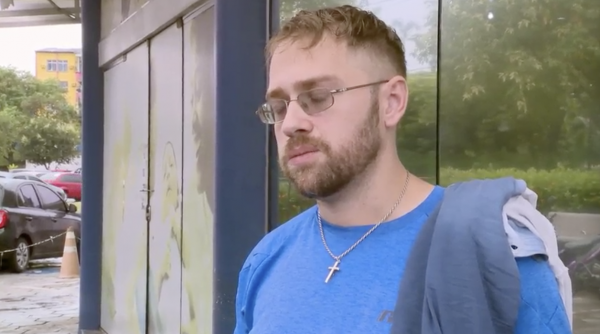 Paul's mom agrees that he's a mess, although she lamely tries to talk him into staying in Brazil when they Skype, encouraging him to grow the f**k up and step up for his child. Also, Paul's Brazilian visa was finally approved so he can maybe-possibly get work now. As a legal Terroriste!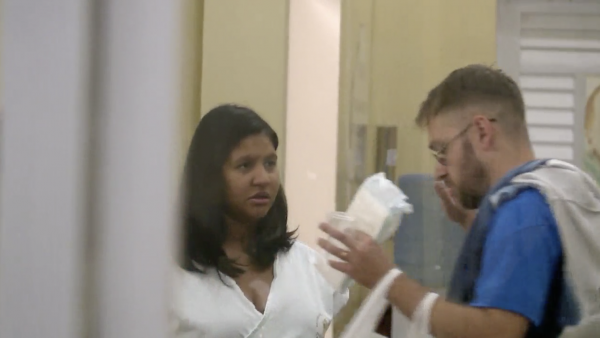 Whelp, here comes the baby! After Karine's water breaks, Paul rushes to the hospital to beg to be let into the delivery room. No dice, says Karine. Back to the doghouse you go! Actually, Paul is sent back to the apartment to gather up some items Karine has requested. 
Something tells me that Paul might be playing up the melodrama of this situation for the cameras because no doubt Karine just wanted him to grab a thousand stuffed unicorns for her hospital stay, then he'll be back in her good graces. These two aren't separating – ever. I mean, they'll definitely be filming Cameos in their hovel until the end of time. 
Jenny & Sumit
Jenny, Sumit, her daughter, Christina and her wife, Jen, all head out to a nice dinner at a place called "21 Gun Salute." So…that's a solid vibe. Sumit tells Christina and Jen about the ring ceremony, which they think is sweet, but not enough commitment for a real relationship. Sumit isn't even going to invite any of his family members to the ceremony.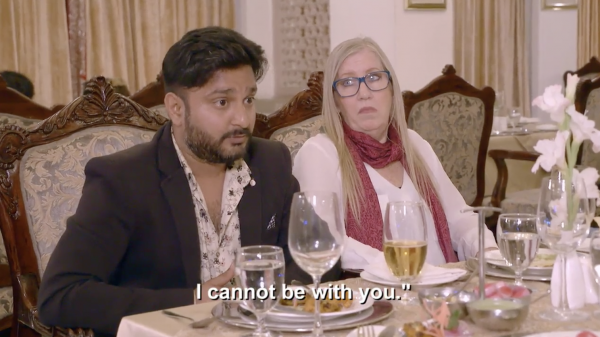 But when he flat out admits that he'd leave Jenny in a Mumbai Minute if his family wished him to, everyone at the table gives him the stink eye. Christina is all, WHAT? Dude, you are a weenie. Well, she puts it much more gently than that. But we get the gist. Sumit needs to man up or let Jenny go. Stringing her along, hiding her in a secret apartment, and ducking out for two weeks at a time to perpetuate the lie is not okay. 
In a flash of brilliance and warmth, Christina tells Sumit that she understands what it's like to keep a secret. She came out as gay to her mom and, initially, didn't get a positive response. But she and Jenny have worked through their relationship and have grown closer because of it.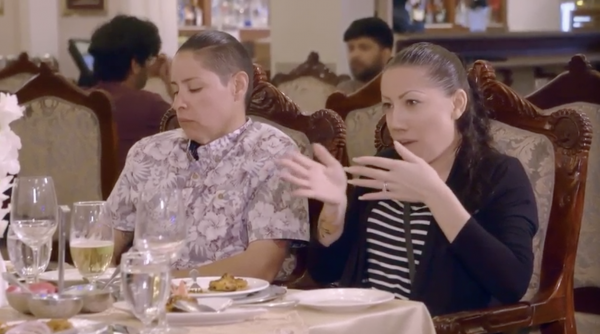 Tearing up, Christina looks at Sumit and tells him directly: "Tell your parents the truth. Be who you are." WOW! 90 Day Fiance, you are bringing us some seriously moving television this week. Kudos. Christina and Jen are the absolute MVPs of this show. #TheLearningChannel #Preach 
But, oh no! Next week, it looks like Sumit divulges a secret he's been keeping from Jenny – and you guys, Jenny cries her face off! Omg. What is going on?!? FINE! I'll just plan on having seven straight days of stress dreams until we find out what Jenny is sobbing about. I just really need her to be okay. We need this love story to have a happy ending, right?
*Please reach out to your local Jenny/Sumit support group if you, too, are experiencing mild to moderate anxiety. We must be there for one another during this dark time. And yo, if Sumit has a whole extra wife and kid hidden somewhere, or if his parents have an arranged marriage set up for him that he hasn't told Jenny about, WE ARE COMING FOR HIM. For reals. 
(Photo Credit TLC)
What is Sumit's secret?! Comment below!
Check out my recaps of 90 Day Fiance, Love After Lockup, Real Housewives – and more! – on my podcast, Pink Shade With Erin Martin (iTunes, Stitcher, Google Play, Spotify, Castbox, Acast). And join my Pink Shade Facebook Group to dish about reality TV all week long! Follow me on Instagram @erinleahmartin and on Twitter @ErinLeahMartin
---