90 Day Fiance The Other Way Recap: Broken Promises
We need more of The Family Jihoon. We deserve more of The Family Jihoon.
Erin Martin July 9, 2019 7:00am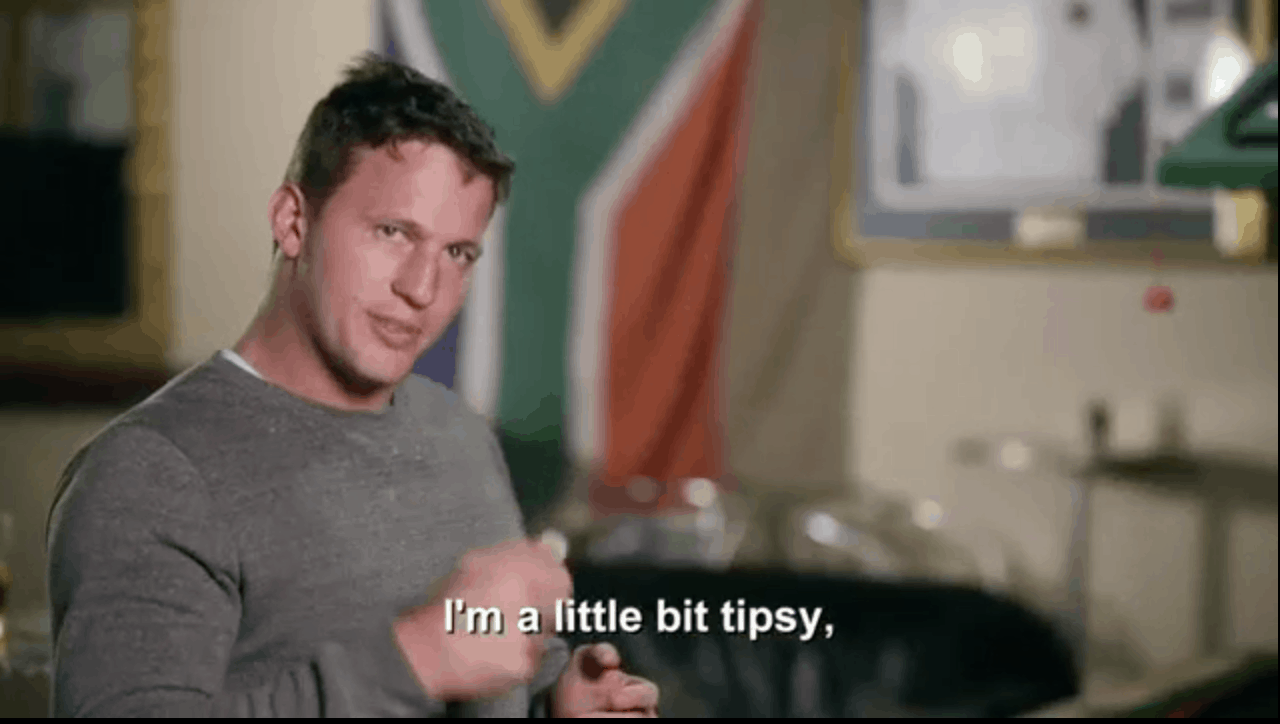 This week's 90 Day Fiance: The Other Way was brought to us by way of food poisoning, poor parenting (yes, I'm saying it!), and The Family Jihoon, who lived through a breakfast hazing ritual that no one deserves. But before we get to that, let's talk about strippers. To do so, we need to talk about The Ronald. Here we go…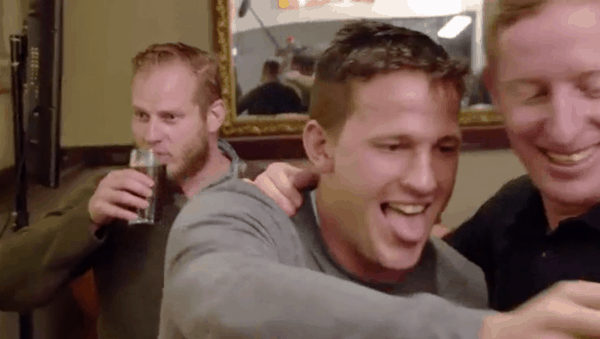 Tiffany & Ronald
You know what's a brilliant idea? Taking a dude fresh out of rehab and sending him out to his bachelor party. And this is exactly what Tiffany does this week. Before leaving for his night out/eventual prison stint, Ronald assures her everything will be tame. Tiffany's all, "Okay, just be safe! Don't go to bars or drink too much or get strippers or gamble away my life savings!" Ronald's friends are all, "NO WORRIES MATE!"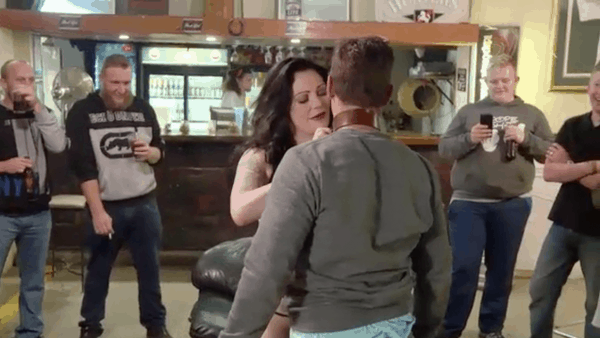 However, Tiffany should be worried. And we're all worried for her as we see Ronald's night of debauchery unfold. It begins with a bar, takes a sharp left toward Ronald dry-humping a keg, and finally devolves into a naked stripper grinding her lady parts all over Ronald's lil' Ronnie. Basically, it is a hot effing mess and Tiffany is a world class idiot for imagining it would be anything but.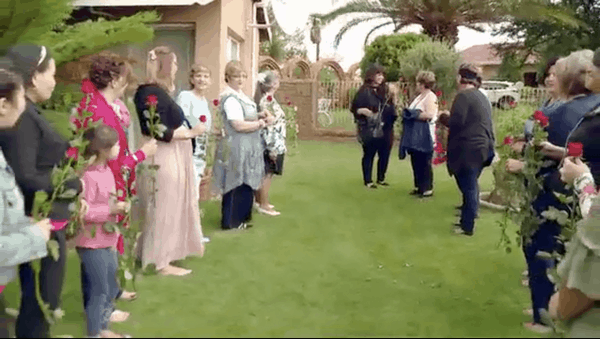 She's blissfully ignorant for the moment, though, as she gets pampered by Ronald's family and friends at her very own Bachelorette party. It's all fancy drinks and fruit cocktail and personal massages over at Family Ronald's Lady Party, which Tiffany appreciates (even though she's creeped out when asked to remove her shirt for the "surprise" massage). Hmm. Let's just hope this massage helps her relax for the next 24 hours because homegirl is going to dropkick someone when she learns about Ronald's sloppy a$$ tomorrow.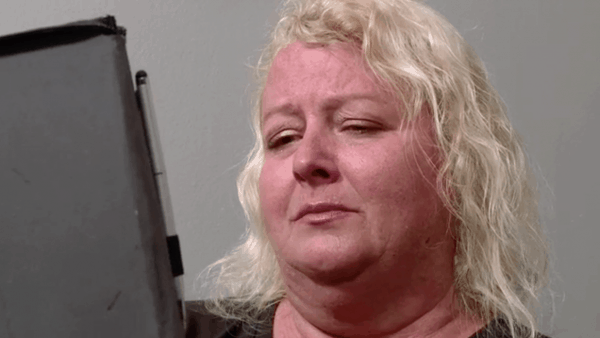 Laura & Aladin 
I don't care what anyone says, I am #TeamLaura even if she's making the biggest mistake of her life (which she is). Her love for her son, Liam, and his tearful goodbye with her at the airport this week threw me into an emotional tailspin that I'm still emotionally eating over. "I feel like I'm losing my right arm," Liam sobs when his mother walks away – for who knows how long? Sigh. And now my pysche is much like Paul running into the forest with two non-working feet. I don't know where the f**k I'm going, but I'm swearing a lot on the way there.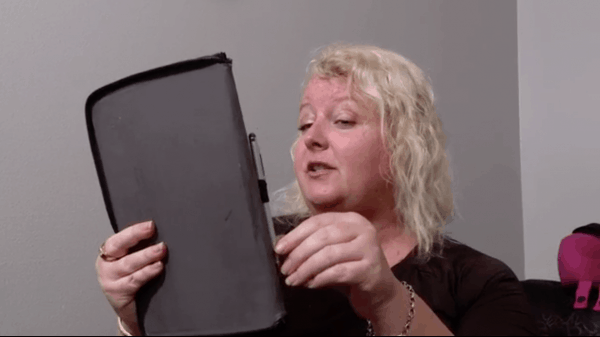 Here's the weird thing: Laura knows she's making a huge mistake by abandoning her life (and dogs!) in America and moving to Qatar (and ultimately, Tunisia) with a 29 year old "personal trainer" who waxes his entire face and occasionally BLOCKS HER A$$ on social media. But she's still half-hopeful that Aladin will deliver the fairytale ending he's promised. Um, girl. This dude can't even deliver the Big O, according to our records. #SexForDummies #DildoGirlKnowsWhatsUp
So why is Aladin worth this level of emotional and financial effort? Well, maybe it's because Laura is just plain ole' desperate, as evidenced by her call to Aladin before she leaves. "Do you love me? Tell me you love meeeeeee!" she whines.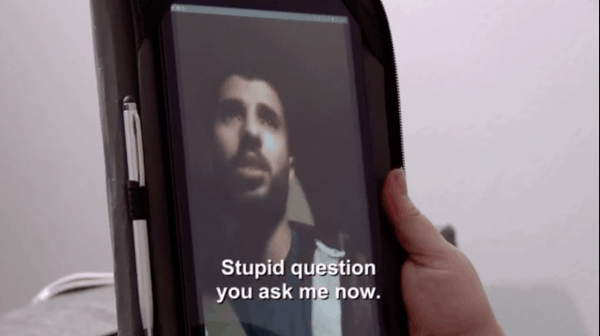 Aladin's awful response of, "That's a stupid question" is reminiscent of Azan telling Nicole her loves her 55% or calling her lazy and out of shape while she was huffing up than desert dune. Essentially, it's a red flag as big as Danielle Mullins' white binder of EVIDUHNZ against Mohamed, and we can all see it flapping in the wind. 
Paul & Karine 
Speaking of eviduhnz, Paul seeks out a lawyer to explain why the Brazillian government thinks he's a terrorist, among other things. Um…genocide, anyone? (WTAF was that all about?!?)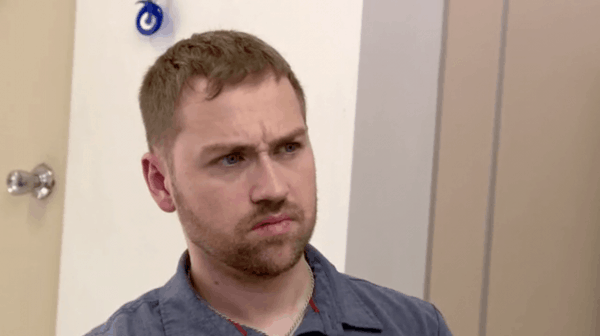 Mr. Attorney is actually several notches above the usual 90DF legal advisor we're usually treated to, and I can only imagine it's because Brazil doesn't understand the sh*tshow they're actually filming here. In any case, he reads Pauls' official letter from the Brazilian government that calls him everything but an axe murderer, then translates the "terrorism" charge. 
As it turns out, this terrorism language is used to describe Paul slashing his ex-girlfriend's tires and threatening her back in the day – as one does – which resulted in a restraining order filed against him. Paul, who's also a convicted arsonist, is like, "Wait – burning down my house doesn't count, but slashing tires does? This is CRAZY!" Yes, Paul. This is crazy, but not in the way that you think.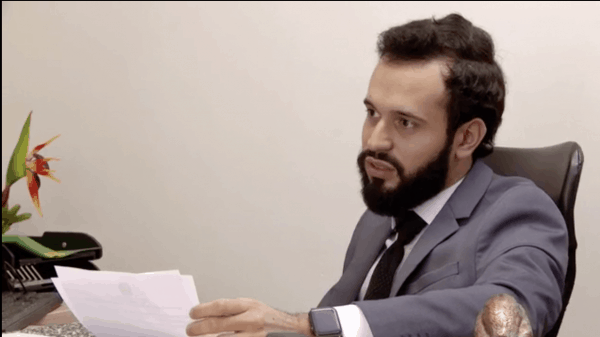 Paul doesn't know how to get these charges off his record, let alone secure his citizenship in Brazil. He complains to the attorney that his wife is pregnant, he can't affort the $26K per year to sponsor her Visa in the U.S., and now he's being called a terrorist here! The lawyer''s face is like: I DON'T KNOW YOU BUT YOU LOOK PSYCHO. Which, of course he does. Whether his psycho carcass can get citizenship anywhere but Kentucky still remains an open ended question. 
(Side question: Has Paul stolen any of the baby's hair yet for his special collection? I know, I know…too far. But it's a legit concern – you and I both know it.)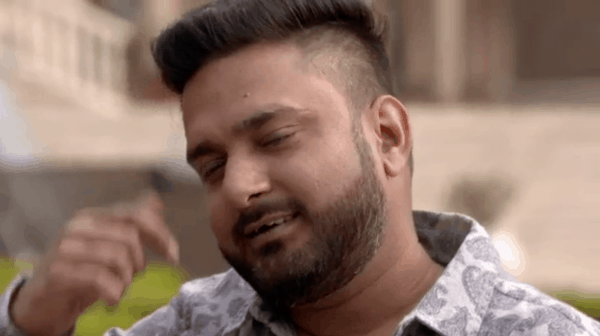 Jenny & Sumit
Sumit is the absolute sweetest, and we all need a Sumit in our lives. It's too bad Jenny gets him all to herself, but I guess we'll let her have him. She did survive the Michael Jones catfishing and live to tell about it, after all. She's apparently not surviving cold showers in her new apartment, though, so Sumit is literally heating up water on the stove and lovingly washing her hair for her. WHY CAN'T I HAVE THIS IN MY LIFE?!? <sob>
But Sumit isn't perfect, and he's got a secret to share with Jenny: He quit his job. To deliver this news, Sumit wisely takes Jenny out on a grown gal field trip to a beautiful temple, where he admits that he's no longer working and they'll probably run out of money in, like, 90 days. No prob!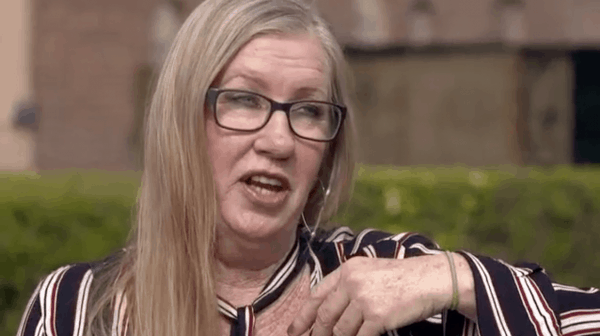 Jenny is shocked, although I'd like to ask, WHY? Because…didn't she notice Sumit not going to work since the moment she arrived? This is nonsense. 
"I need financial security," whines Jenny, "How's this supposed to make me feeeeeel?" Well, it should make you feel like you're not the best retirement planner in the world, considering you moved across the globe with only $6K in your savings for a dude half your age. BUT! The heart wants what it wants. And in this case, it wants its hair washed by Sumit in a cold-water apartment. But it doesn't want to wear grandma saris.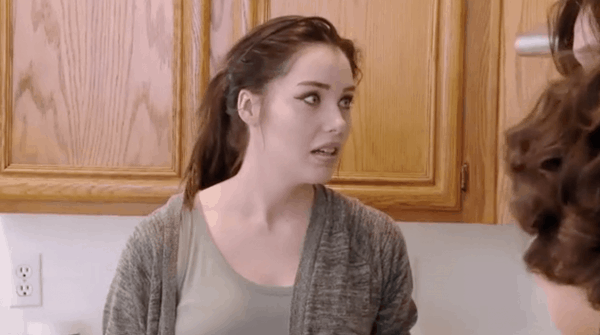 Deavan & Jihoon 
Listen, we've saved the best for last because Deavan, Jihoon, and little Drascilla are serving up some serious dysfunction. Seriously – the horror is on FLEEK. Like, we should have had a full-on Wes Craven movie soundtrack rolling in the background for every minute of their footage this week.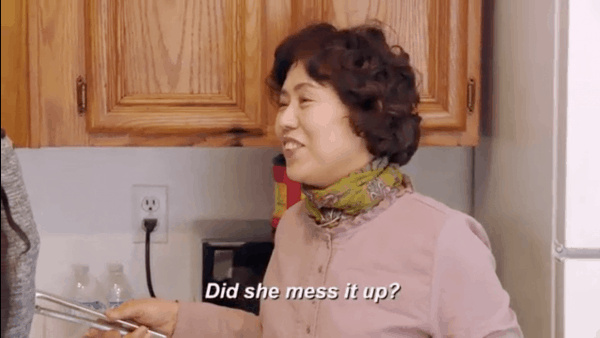 Where to start? At breakfast, of course, where the nightmare begins. It's the first morning in their Vegas rental, and The Family Jihoon is hangry. Deavan wants to show her cooking chops by serving a traditional American breakfast to her future in-laws, but Mama Jihoon keeps getting in the way by trying to help. Frustrated, Deavan complains the entire time while also somehow managing to f**k up every single dish, eventually just throwing some slop on the table and demanding that everyone eat it.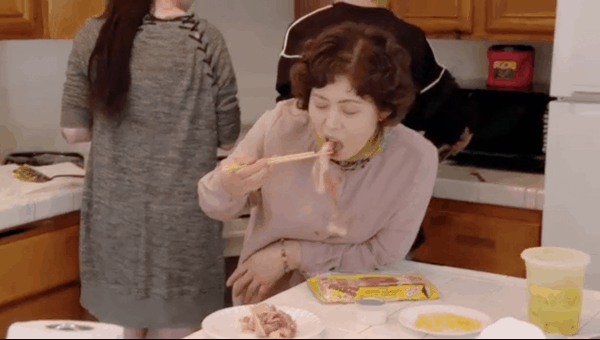 Specifically, here are the horrors that unfold during this scene:
Drascilla

sits barefoot on the counter in her diaper, inches away from prepared foodstuffs, then is forced to go to bed at 9am after her full demon possession takes over.

Mother

and

Father Jihoon

pick up RAW BACON WITH THEIR CHOPSTICKS to sample the "traditional American fare," forcing a gag reflex in my throat that I haven't experienced since

Annie

described her Boom-Boom sex with

David

. 

Before she's drugged/put to bed,

Drascilla

thrusts her sweaty fists – and possibly feet? – into the community dish of scrambled eggs, which

Deavan

shakes off as "no big deal" and serves anyway. <dry heave>

Jihoon

translates helpful phrases like "Your daughter needs manners!" throughout this clusterf**k, which

Deavan

thinks is highly offensive. 

Mother Jihoon

insults

Deavan's

food so savagely that

Jihoon

literally pretends he doesn't understand his native language OR English, finally whipping out a translator app to run interference and/or whisk him away from this room entirely. 
Please observe the proximity of diaper to egg (I'm sorry/you're welcome):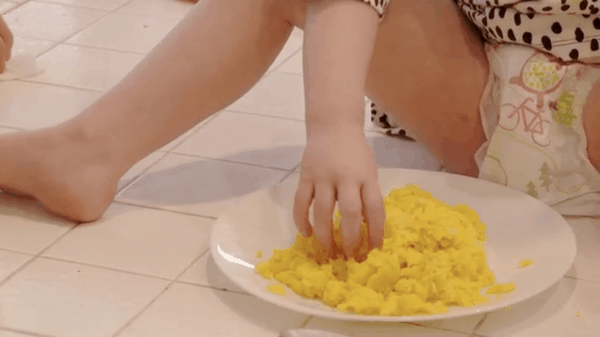 Essentially, this is the most disastrous breakfast ever known to a 90DF camera crew, and I was thoroughly entertained by every stinking second of it. Thus, I might be the worst person ever? But seriously, I need more of this family. I need a whole spinoff. Forget The Family Chantel – we need The Family Jihoon.
And it looks like next week will be giving us at least a small taste of their continuing dysfunction. Bring on the rubber bacon and foot-eggs! I AM HERE FOR IT ALL DAY LONG WITH MY FEET ON THE COUNTER EATING THIS SH*T UP WITH MY BARE HANDS. #TranslateThat 
(Photo Credit TLC)
Do you want more of The Family Jihoon or are you all set with raw bacon for now? Is Ronald headed for disaster? What about Laura? Comment below!
Check out my recaps of 90 Day Fiance, Love After Lockup, Real Housewives – and more! – on my podcast, Pink Shade With Erin Martin (iTunes, Stitcher, Google Play, Spotify, Castbox, Acast). And join my Pink Shade Facebook Group to dish about reality TV all week long! Follow me on Instagram @erinleahmartin and on Twitter @ErinLeahMartin
---