90 Day Fiance The Other Way Finale Recap: Never Let Me Go
I'm not crying. You're crying!
Erin Martin October 8, 2019 6:50am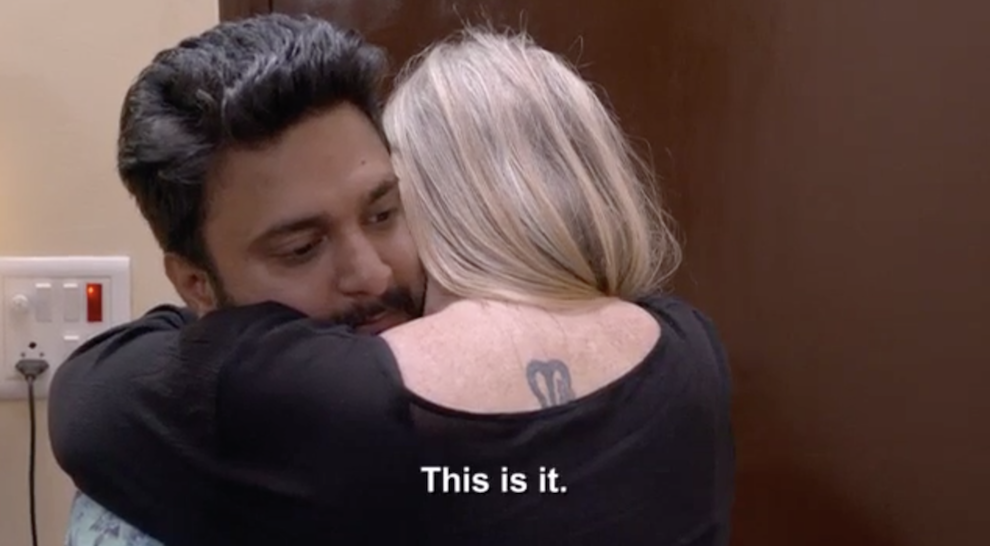 This season of 90 Day Fiance The Other Way was like a classic Bon Jovi song, and I mean that as a high, high compliment. The casting was perfection, the stories (real, fake? Who cares!) were solid. Nay, riveting! My god – even the pronunciation of Sumit's name kept me on the edge of my seat for four solid months. Along the way, we learned valuable lessons about secret wives, purple dildos, and clean anals. 
And though it's hard to say goodbye to the Hamily Jihoon and the rest of our crew, we know that these characters will be assembled one final time on a very small couch next week for The Couples Tell All reunion. Also, I hear there will be an on-site therapist involved. (Psssst: I also hear some of these folks are filming again for future seasons too. Real talk.)
Until then, let's wrap this b*ch up!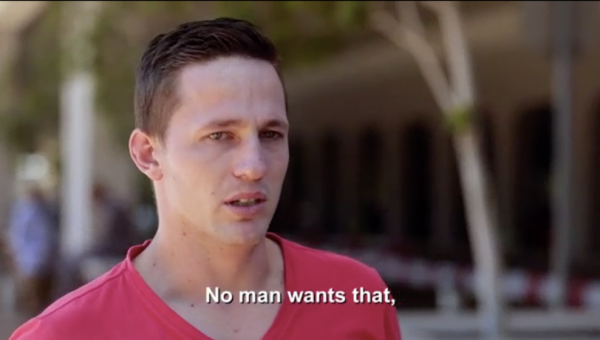 Tiffany & Ronald
It's time for Tiffany and Daniel to leave Ronald behind, and despite me thinking these people are terrible at decisions and planning and life in general, I must admit a wee tear came to my eye as they hugged goodbye in the airport. 
Before their tearful departure, Ronald's addiction counselor, Craig, stops by to give them some advice on the coming months. He reminds Ronald that reality is kicking in, and he needs to stay on the straight and narrow despite the challenges ahead. Tiffany admits to Craig that she's afraid of Ronald relapsing as soon as she leaves. But there's not much anyone can do about preventing that except Ronald.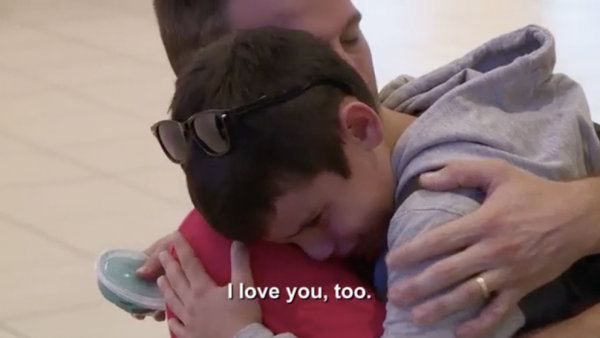 At the airport, Ronald and Daniel share an unbelievably tender moment as Daniel weeps and says goodbye to the man he's come to know as "dad." Ronald feels like his heart is being ripped from his chest. So does Tiffany, even though she promises they will be together again one day.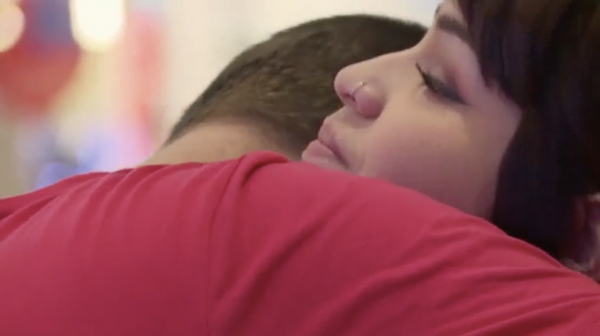 Will he be able to see the birth of their baby? Will be ever be eligible for U.S. citizenship? They don't know. And now I am a hormonal puddle of tears over them too. WHAT IS HAPPENING?!?!
Deavan & Jihoon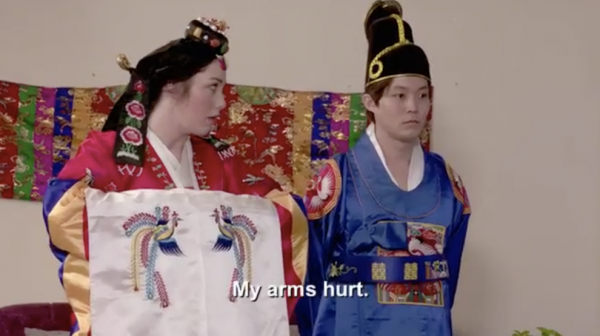 It's the day of Deavan and Jihoon's traditional Korean wedding, and Deavan isn't quite ready for the spectacle of her in "hanbok," which are traditional Korean wedding clothes. This seems odd considering that Deavan always seems ready for some pink eyeshadow and Anime face.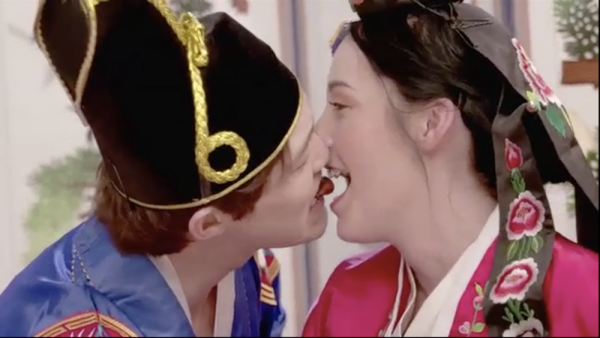 Jihoon's aunts and parents arrive to celebrate as Deavan and Jihoon are fitted with their wedding clothes. "So beautiful!" cheers Jihoon when he sees his bride. "I pick good woman. She was born to wear hanbok." Deavan, however, is not feeling it. "My arms hurt," she complains as she stands next to her groom, wincing and getting a large date shoved in her mouth to see who will "have the power" in their relationship.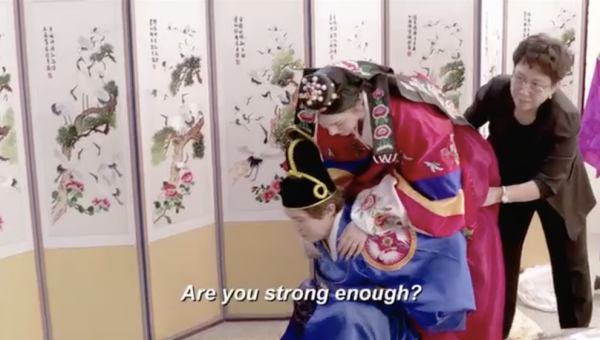 Next, it's time for a piggy back ride! Yes, Jihoon must hoist his bride up on his back and circle the room for as long as possible to determine what size house they live in. Deavan's all, DON'T DROP ME IN THIS GETUP! But Jihoon is determined to move out of his parents' bedroom, so he better take a few laps even if he bursts a blood vessel.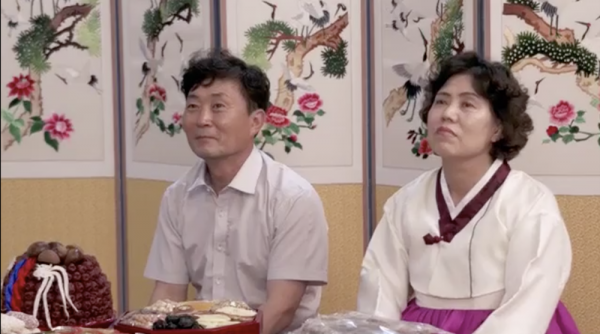 Alright, it's official. BEST WEDDING EVER. Long live The Hamily Jihoon!
"We will living happy," says Jihoon at the end of their ceremony, just before announcing, "You are my slave." He's also ready for more babies. And from what we've been hearing online, it sounds like his wish is coming true. Now, let's hope he can refrain from international criminal activity henceforth.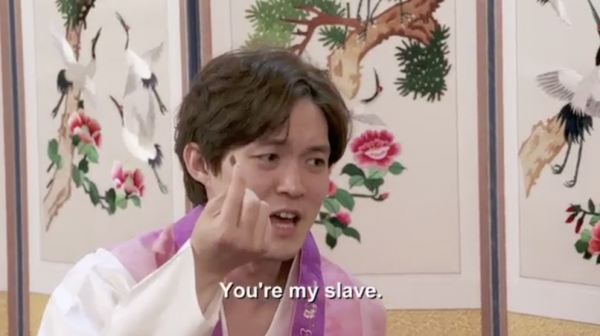 Corey & Evelin
Before we get to the big event of Corey's desperate proposal, we must discuss him asking Father Evelin for permission, which actually turned into Corey asking Father Evelin to marry him. Only photos do this scene justice, so let's review. 
Setting: Ditch digging in godforsaken dustbowl/alley/wasteland  
Characters: Corey, Father Evelin, Google Translate 
Scene: Corey attempts to ask for permission to propose to Evelin 
It went a little something like this: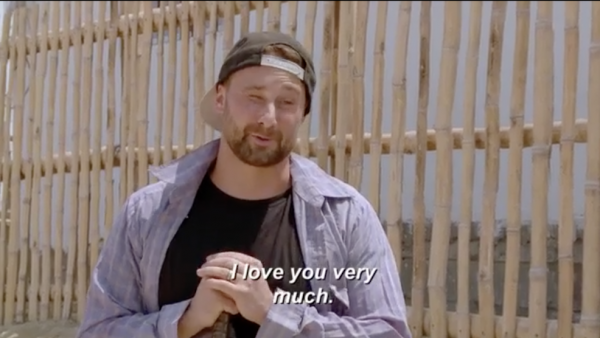 …and I'd like to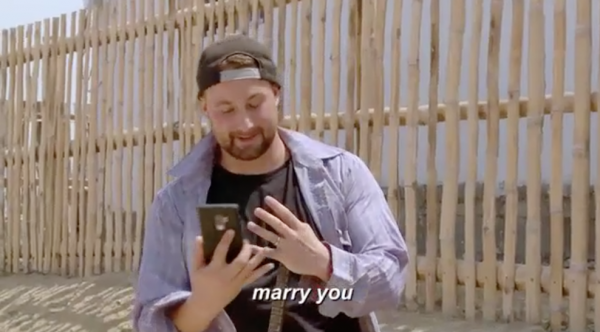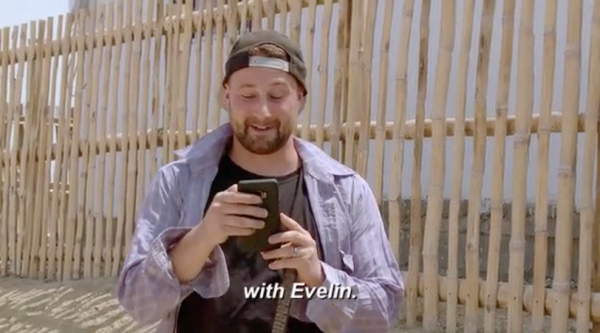 So…polygamy, then? GOOD CALL. We must remember: Corey does have a family compound after all. Father Evelin gets the gist though and laughs in Corey's face, reminding him that he's not the once who must be convinced. It's Evelin.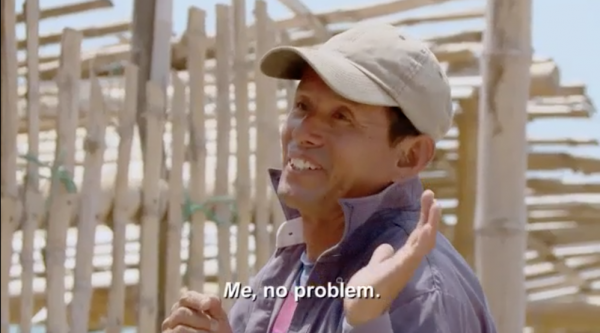 Father Evelin also gives literally zero f**ks about whether Corey convinces Evelin to marry him, but he is interested in Corey digging this ditch. So he just wishes him luck and keeps it moving. This pipe isn't going to lay itself, people.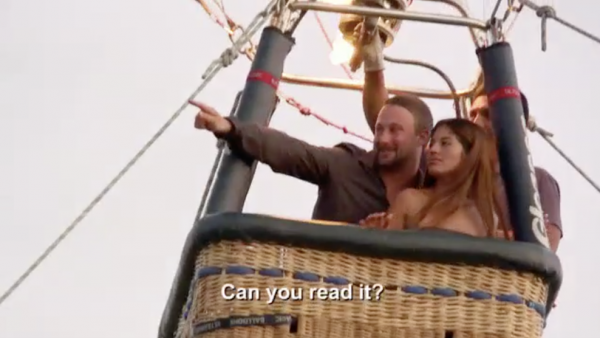 Later on, Corey takes Evelin on a surprise hot air balloon ride for their anniversary. So he can push her out of it? KIDDING! (Not kidding.) Once they're up in the air, Corey points to a huge sign he's had made that says "WILL YOU MARRY ME?" She can't see it, so they descend to ground level again and literally walk up to the sad, sad sign.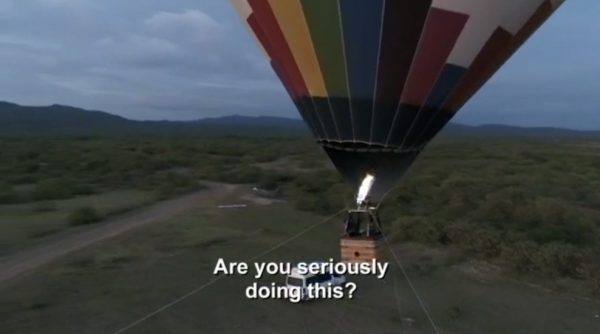 Evelin's response is one hundred percent Evelin. By that, I mean it's snarky and negative and basically just another "eff you" to Corey. She's all, Are you serious? WTF? When she realizes Corey's legit asking her to marry him. Did he not hear her the first thousand times she said no? Apparently, he did not.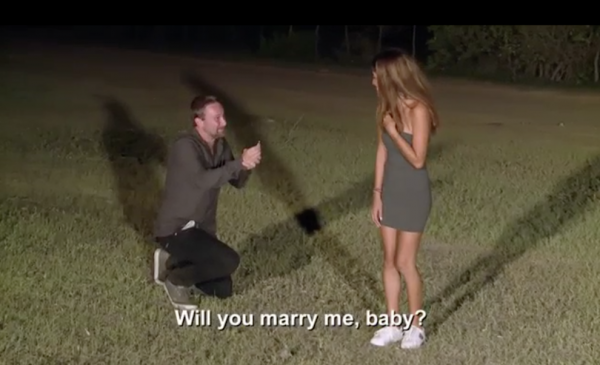 Oh, Corey. DUDE! We want to feel sorry for you! (And believe me, I do feel terrible for him losing his father and being rejected by Evelin repeatedly this season.) But damn – this guy is a glutton for punishment on every level. The townspeople only recently stopped calling him names, Evelin only blocked her ex on social media because she felt bad for Corey in the wake of his grief, and now he's still trying to lock this shrew down.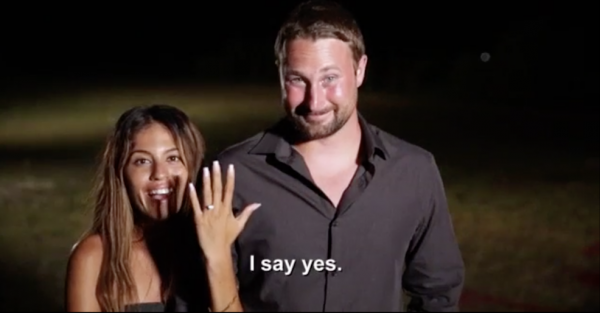 In the end, Evelin shockingly says she does want to marry Corey, but something tells me that this "yes" will turn into a "Thanks but no thanks" before long. Evelin even admits she said yes to the engagement, but still isn't sold on the marriage part. And as previews from the Tell All next week reveal, she's not even ready to stay faithful. YIKES.
Jenny & Sumit
Alas, we've come to the end of the road. Our star-crossed lovers must finally leave one another. And I'll admit it once again: I'm still rooting for them, despite my better judgment. Yes, Sumit is a liar who basically ruined Jenny's life, his legal wife's life, and all of their families' reputations. But, but, but – YOU GUYS! I see the way Jenny and Sumit look at each other and just melt into a puddle of pathetic Jenny-ness. I know. It's a problem. Send help.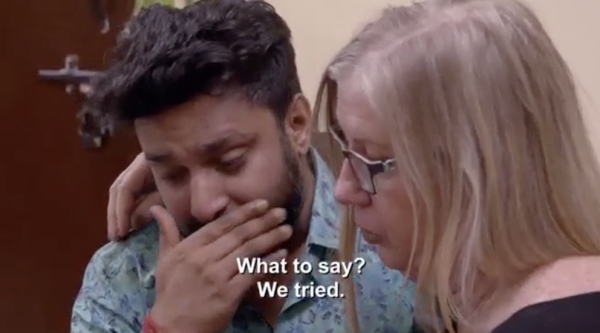 It's also a problem that Jenny has to leave India with no promises from Sumit about how he's going to fix this nightmare. "Broken hearts kill people, you know?" sobs Jenny in Sumit's arms. She begs him to fix everything so they can be together. But what can he do? He seems defeated.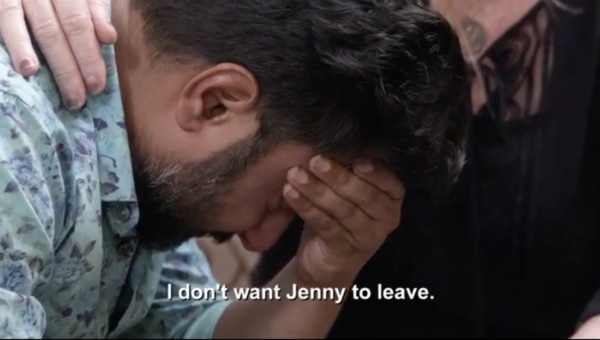 When they hug goodbye, I can actually feel my steely heart melting into a pile of pathetic goo. He clipped her toenails! He washed her hair! She was learning to cook things other than grilled cheese! *SNIFF* Through tears, Sumit recalls how they were building a home for two, that they were truly in love, and it's painful knowing that "the best time of his whole life is past." 
OH MY GOD THESE PEOPLE ARE KILLING ME.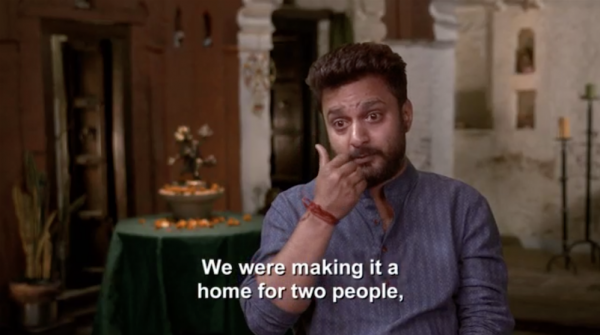 Jenny cries in her interview with producers, swearing that she and Sumit are truly in love and, despite his heinous deception, she still believes he's a good person. Do we believe this? Can they end up together somehow, some way? What will become of that poor first wife who's back home being rejected daily and publicly?
Who knows how this will all end. But what I do know is that the tragic love story of Jenny and Sumit has taken me on a ride through every emotion that I and my emotional support dog are capable of having. Also, I've eaten roughly 12 bags of Aldi's dark chocolate almonds trying to process this story. Thanks for the memories and, TLC, and thanks to the back of my closet for the extra stretchy leggings. Standing ovation to a stellar season! 
(Photo Credit TLC)
What will become of all of these couples? Who do we want to see more of? Comment below!
Check out my recaps of 90 Day Fiance, Love After Lockup, Real Housewives – and more! – on my podcast, Pink Shade With Erin Martin (iTunes, Stitcher, Google Play, Spotify, Castbox, Acast). And join my Pink Shade Facebook Group to dish about reality TV all week long! Follow me on Instagram @erinleahmartin and on Twitter @ErinLeahMartin
---