'90 Day Fiance' Star Anfisa Sparks New Pregnancy Rumors
Anfisa Starts Pregnancy Rumors!
Mandy Robinson August 17, 2018 3:34pm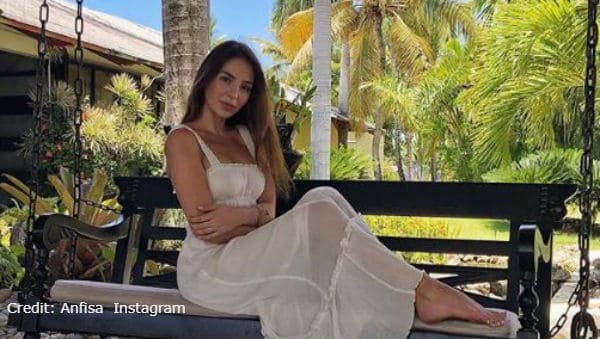 Anfisa Arkhipchenko of 90 Day Fiance is starting rumors that she could be pregnant with Jorge Nava's baby. The two are still together at the moment, but this couple has split more than once. In Touch Weekly shared about what is going on that made these rumors start rolling.
First off, these two as parents is a bit scary seeing how much they fight and don't get along. They are off on a couple's vacation in Punta Cana together right now. Jorge made a comment about the fact that they were taking this trip so that they could have fun before his year-long vacation. He didn't explain details, but it made fans wonder if he could end up in jail because of his recent arrest. You can assume they wouldn't plan a pregnancy if Jorge was going to be gone.
Anfisa posted a picture that shows her posing with her hands over her belly. A lot of this time it means a woman is holding her pregnant belly or trying to hide it. This had fans start speculating that Anfisa could be expecting her first child. She mentioned a few things such as that she had been tired lately that also had everyone speculating. They started going crazy asking her if a baby is on the way.
Well, it looks like she decided to prove them all wrong with a video that she posted. This shows that Anfisa is just as skinny as ever still and there is no reason to think a baby is coming. Not sure if that is why she showed off this video, but you can tell she isn't hiding a baby bump.
Do you think that Anfisa and Jorge have a baby on the way? Let us know in the comments, and don't miss new episodes of 90 Day Fiance: Before the 90 Days airing right now on Sunday nights on TLC. You never know if Jorge and Anfisa will be back on another season of the show in the future.
---