90 Day Fiancé: Meet the Season 7 Couples
Meet the dramatic new couples in a preview you need to see to believe!
Ashley Hoover Baker October 15, 2019 10:25am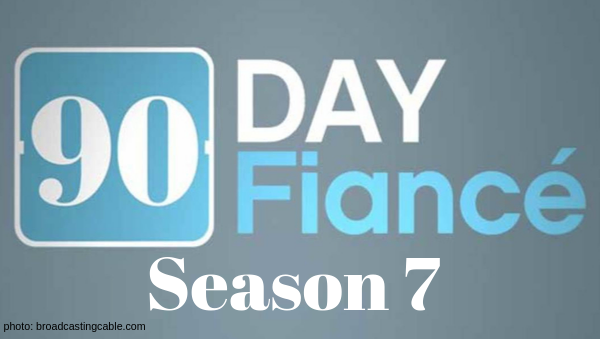 The 90 Day Fiancé season 7 premiere is less than 3 weeks away! Meet the seven dramatic new couples who will get married thanks to the K-1 visa process. Oh, what people will do for love.
You've got to see the new couples to believe it!
In the trailer, we meet Emily from Oregon and Sasha from Russia. Emily moved to Russia after college to teach English. She ended up getting pregnant with her trainer – who already has two kids from two different women. Sasha plans to move to America with Emily to start a family together.
Next is San Francisco's Blake and Finland's Jazmin who met online. When they met face-to-face in Finland, the romance blossomed. According to E Online, "Blake was prepared to propose during his second trip, but his friends and family are wary, especially after learning Jasmin's sister won the green card lottery and is already in Los Angeles."
There's also Tania from Connecticut and Syngin from South Africa. This one is going to hit close for a lot of ladies… Tania was going to South Africa to meet a man from a dating app. That didn't work out, then she met a bartender, Syngin. Tania went home with Syngin that night and ended up staying with him for months. As you saw in the preview, courtesy of E Online, the couple is not on the same page regarding their future. Plus they are living in a shed, so there's that.
Robert, a Florida resident and Anny from Dominican Republic are another couple that met on social media and talked every day for six months. They finally met when Robert took a cruise with a stop in the Dominican Republic. Within hours of first meeting, they couple was engaged.
After Mike from Washington's friend met and married a woman from Ukraine, the newlyweds played matchmaker and connected Mike with Natalie, also from Ukraine. The second time Mike saw Natalie in person, he proposed. It get complicated when the church is involved. Plus, Natalie is a city girl and Mike's is more country.
Anna from Nebraska, a full-time mom of three, and Mursel from Turkey connected online over their mutual love of beekeeping. Despite a language barrier, romance sparked. After meeting in person in Turkey, Mursel proposed on social media. Mursel's family doesn't know Anna is a mom and would not approve of her having children out of wedlock.
I saved my favorite new couple for last. Connecticut's Michael seems like a total creeper, which should make for quality reality tv.
Michael met the young, Brazilian beauty, Juliana, at a yacht party in Croatia. (That was the most pretentious sentence I've written in a while.) According to the couple, there was an instant attraction and they fell in love. The relationship got complicated after Juliana's tourist visa was denied over speculation of her being a sex worker, according to the video.
The couple opted to pursue the K1 visa process to continue their life together. My favorite quote from the preview? "No, she's not a prostitute!"
This is why I love 90 Day Fiance!
If you are not listening to Pink Shade with Erin Martin, you are missing out on your best 90 Day Fiance recap life! Erin has a hilarious take on the K-1 visa happenings with all of the franchise's couples. It's a must listen for 90DF fans! Click here to listen!
90 Day Fiancé's seventh season premieres Sunday, November 3rd at 8 p.m. on TLC.
Which couple are you most excited to learn more about. Drop your opinion in the comments!
---