90 Day Fiance The Other Way Recap: All In The Name Of Love
Four couples make questionable choices, and we are 100% here for it.
Erin Martin June 4, 2019 7:00am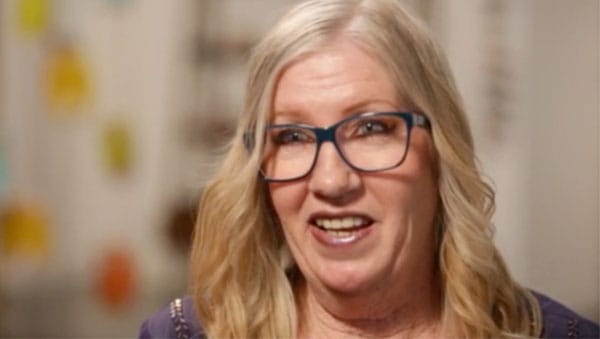 The TLC spinoff we've been waiting forever since Paul Staehle first swam in that Amazonian poop water is finally here. 90 Day Fiance: The Other Way premiered last night in its debut season, and if you're not watching this show yet, please let me implore you to live your very best life and do so right this minute. (It's available on TLC's website and their TLC ToGo app if you need to catch up. You're welcome.)
Sharp Entertainment has struck pure gold with their casting this time around, giving us six couples who are poised to offer up some steaming piles of hot messiness. The show's premise follows six Americans "who have found love abroad and brace to leave home permanently." This season's roster includes five brand new couples and the already-married duo of Paul and Karine, who have appeared on multiple seasons of 90DF franchises, are expecting a baby, and can still barely communicate in the same language. Yes, this is considered progress.
Let's meet the cast.
Jenny Slatten (60, Palm Springs, CA) & Michael Jones, AKA Sumit (30, India)
First up are Jenny and Sumit, AKA "Michael Jones." Jenny is a 60-year grandmother who met Sumit by way of being catfished on Facebook, then promptly fell in love and decided to marry her scam artist. As one does. In our opening scene, one of Jenny's three daughters helps her pack for the one-way trip to India she's about to make. "Whatcha do fer love is sometimes unbelievable," sighs Jenny while telling her daughter that she can't wear tank tops in India, therefore ever again. #SmallSacrifices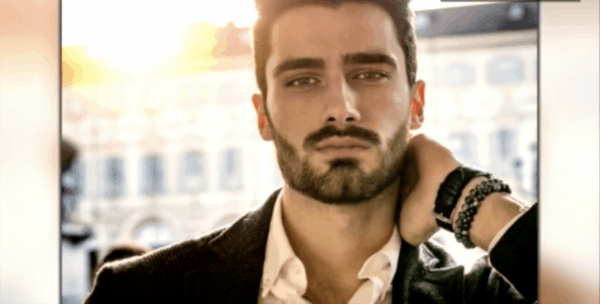 Backstory: Michael, an alleged model from the UK, messaged Jenny one day on Facebook after she stupidly accepted his anonymous friend request. He started sending her sweet nothings like, "Do you have a map? Because I just keep getting lost in your eyes." This is obviously not computer generated.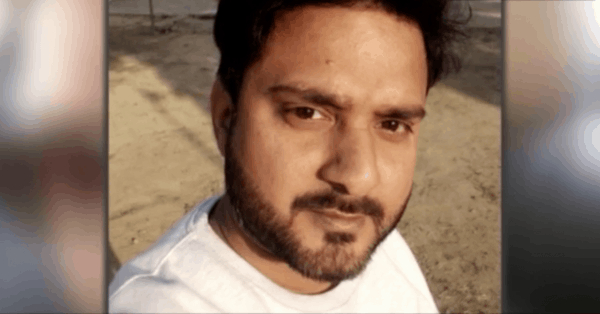 But wait! It's actually MICHAEL HIMSELF who is computer generated because it turns out that he is actually Sumit, 30, a call center employee from India, who loves Jenny and is reallyreallyreally sorry for catfishing her, mmmkay? When he confesses the truth, Jenny shakes off the ole' catfishing ruse, forgives Sumit, and prepares to marry the man who pretended to be an Instagram model (to steal her life savings). Her decision-making skills are in question. 
Also, Jenny is prepared to give up all rights to her Social Security once she becomes a citizen of India. Her friends, who are extremely rough around the edges and extremely CORRECT in their opinions of the situation, cannot believe Jenny is being this delusional about her life. But we TLC viewers can, and we salute her disastrous choices. (I mean, without them, where would we be in our shared addiction to this glorious brand of trash TV?)
Jenny's friends try to dissuade her from hauling all of her sh*t to India, lest she be swindled/murdered in the process of trying to wife up a 30-year old man who is, incidentally, the same age as their collective grown children. Jenny's friends are the type of chicks who seem like a good time, and who've definitely seen a thing or two in their day. But Jenny isn't here for their advice. She's made up her mind, and – hell! – she's already torched those f**king tank tops anyway.
Over in India, Sumit tells us how he became "Michael Jones" online because that's the name the call center gave him. WHAT?! Omg. After meeting Jenny online, he included a photo of a shirtless, ripped model to complete the picture. But after he "got to know" Jenny for a while, Sumit came clean and was shocked to learn that Jenny was willing/desperate enough to give him a second chance.
Since then, Jenny has visited Sumit in India for an extended vaycay, where they secretly made plans to wed. But there's a snag – Sumit's parents STILL don't know the truth! Apparently, Sumit has been Biz Markie-ing it up in here and telling everyone back home that Jenny is "just a friend." Bottom line: Sumit's parents are going to go medieval on his a$$ and possibly burn the entire village down when they find out Jenny (who's literally older than Sumit's mom) is coming back to marry their son.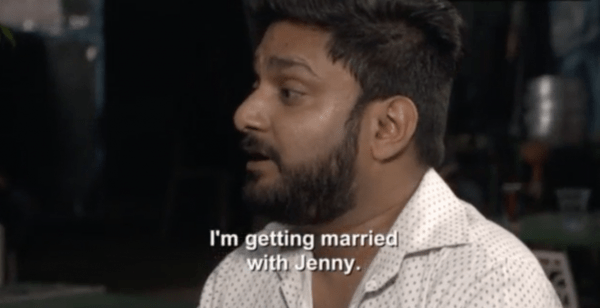 Out for drinks, Sumit's friends remind him of his family duties, cultural expectations, and the fact that Jenny might not even LIKE living in India when she gets there for good. Sumit tears up thinking about how much he loves Jenny, and – I don't know about you guys – but I am actually feeling freaking sorry for this dude all of a sudden! Does he really love her after all? Is this relationship slightly less of a trainwreck than we initially thought?!? 
Nah. It's a gigantic disaster. And Sumit's friends know it, summing up the situation with their facial expressions thusly: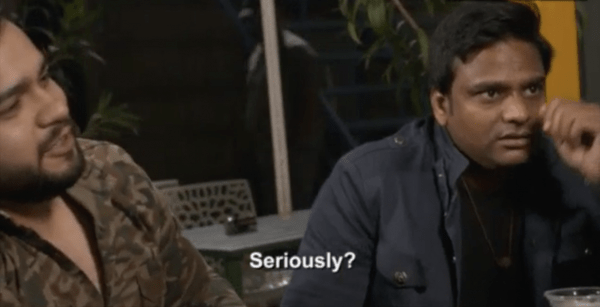 Tiffany, 27, Frederick, MD & Ronald, 28, South Africa
Tiffany is a gorgeous makeup artist and single mom to her 8-year old son, Daniel. Two years ago, she fell in love with a South African, Ronald, who has many, many problems. Like – a lot of problems, people. Strap in. 
Tiffany lives with her mom, Maggie, and her 3-year old sister, Emily. Also, Tiffany didn't know she was pregnant with her son until 15 minutes before delivering him. <pause here for primal scream> WHAT THE ACTUAL HELL!?!? Okay, I stand corrected; this chick may have more problems than Ronald.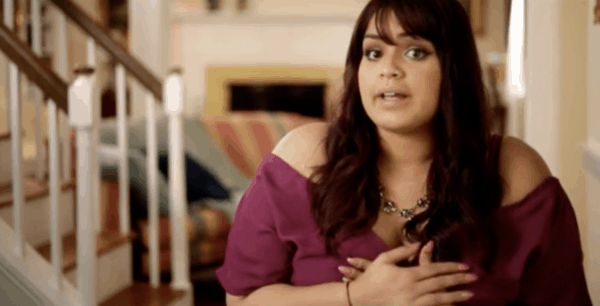 As she tries on wedding dresses with her mom and older sister, Tiffany still doesn't tell them the "big secret" she's hiding about Ronald. Even so, Mom thinks Tiffany is straight up crazy to move to South Africa to start a life with a man she hardly knows. "I'm really freaking out right now because she doesn't even know the half of it," admits Tiffany, who's got some serious 'splainin to do.
Flashback to 7 months earlier and Ronald is Skyping with producers, telling them all about his itty-bitty gambling addiction and subsequent PRISON SENTENCE. Omg. Turns out, Ronald used to steal sh*t from his mom's house to fund his gambling debts, and she finally called the po-po on his thieving butt. Apparently, he got locked up for drinking and driving as well, along with assorted other crimes. (Later, Tiffany explains to a lawyer that these charges were all dismissed, even though she barely understands any of them.)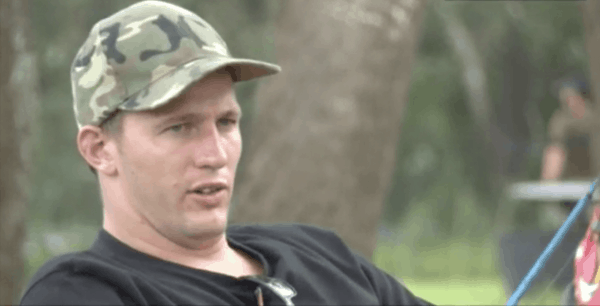 But no worries, mate! Because now, Ronald is in a "Christian based wellness center" where we can see him shouting, "What do we need? JESUS!" with a group of other dudes who look like they're hanging on by the flimsiest of threads. Since he's been in here chanting things, Ronald swears he's a changed man.
So, what's the plan? Well, after Ronald leaves rehab, it will be roughly a week until he gets married. Therefore, we're looking at a straight up rehab-to-altar situation here, guys. Ummmm….Tiffany: YOU IN DANGER, GIRL! Do. Not. Do. This. Turn the car around before it's too late.    
When Tiffany finally tells her mom and sister the truth about Ronald, they are naturally horrified/worried, but Tiffany has her mind made up. Even the lawyer can't scare her out of her plans to drag her son to South Africa, then marry a felon who's fresh out of rehab THAT SHE MET ONCE. Or twice? Doesn't matter. This will be an epic sh*tshow, and I'm already popping my popcorn for it. 
Paul, 35, Louisville, KY & Karine, Brazil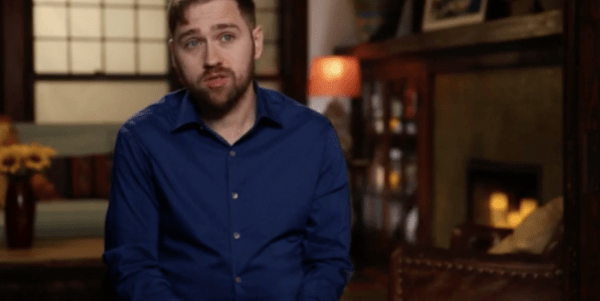 Just when we thought it was safe to go swimming without our penis sheaths, Paul comes back on the scene – and he's heading back to the Amazon, guys! Yep. Because of Paul's criminal record and his inability to financially sponsor Karine's U.S. Visa, he plans on moving to Brazil. Permanently? Sure looks like it.
Karine is pregnant, and although Mother Paul (Mary) isn't thrilled with Paul's life choices, she's been dealing with Paul for 30-odd years now and knows she can't knock any sense into him. She'll just have to hand him another hairball and wave goodbye when he flies off again, possibly forever.
Before he leaves, Paul appears to be working on a farm and packing up his standard 5 military crates with baby gear, assorted unknown supplies, and possibly body parts. Hey – at least this time our boy doesn't have to pack those 14 pregnancy/STD tests he usually forces Karine to take! (But I guarantee you there are unicorn onesies and dildos in this luggage again. #TrueStory)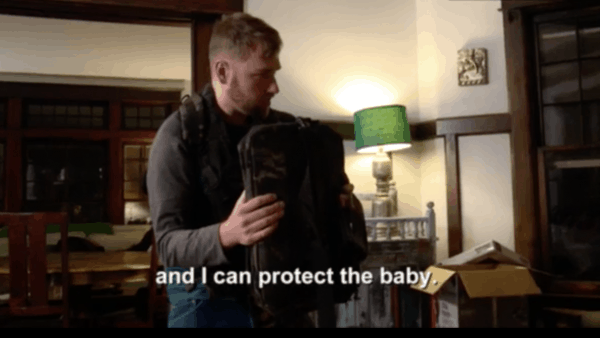 As Paul proudly shows Mom the bulletproof baby carrier he's taking to Brazil, he explains how dangerous life is over there and how this will protect his offspring…while he's walking through random gunfire on the way to the corner store? WTF PAUL!?!?! Paul's mom comments, "Oh, so they'll just shoot you in the head, then?"
But all of Paul's planning and packing and hypochondriac panic attacks are cut short at the airport when he learns that an embargo will prevent him from taking more than two pieces of luggage to Brazil. Will he choose two crates, hop on the plane, and fly to the waiting arms of his pregnant wife? NO HE WILL NOT. Because he is Paul: Man Who Travels With Much Luggage. And he flat out refuses to leave any bulletproof vest/onesie/dildo behind.
Mother Paul can't convince her son to ship the rest later or, better yet, just leave that sh*t behind and buy it online like the rest of humanity! Nope. He'd rather throw a grown man hissy fit right in the airport, load his enormous crates back into the car, and find a way to get himself to Brazil with ALL of his crap in 30 days. "I hate my life!" screams Paul and Mom drives him back home, wishing she'd never cleaned fresh hair out of her brush for this ingrate.
Corey, Mill A. Washington, & Evelin, 26, Ecuador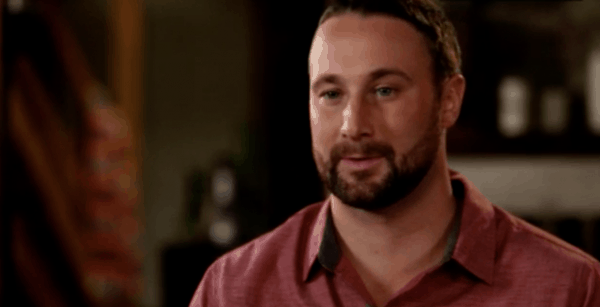 Corey is a Mormon who lives on a giant family compound in the woods, which is not weird at all. Also, this pretty much tells us everything we need to know about Corey, full stop. 
Corey's fiance, Evelin, is from Ecuador and has no plans to "become a Mormon person," even if she does take part in Mother Corey's chicken taco nights. Despite Corey showing Evelin the high life in his woodland murder shack, Evelin still wants to move back to Ecuador, where she can commune with more than wild turkeys and trees. Plus, Evelin thinks Corey's family is a cult. (To this, I offer my homegirl a fistbump in solidarity. #Boom)
Corey is prepared to do anything for Evelin, including handing over $60K for her every want and need. Oh – and for her to "invest in property" back in Ecaudor. Bwaaaahahahahaha! Ahem, alright…get it together now and let's continue. Corey's traditional family agrees that "the man should provide," but only if the wife has babies. Oh lordt. Evelin, you are apparently on notice. A compound grandbaby has been summoned forth. 
But Evelin doesn't want kids, and she doesn't want to stay in the shack any longer. Her ultimatum is this: Corey must move to her small town in Ecuador and live out the rest of his days with her there, or they break up. Corey is ready to leave his whole life behind – including his car, which he has an inappropriately close relationship with – in order to hang on to Evelin. But when the money runs out, what will he hold on to her with? She's here for the coin, not the Corey. 
As Corey drives her to the airport to fly home to Ecuador, Evelin demands some travel cash, then kisses him goodbye. Corey doesn't want to leave the woods or his cult, but he'll do it all for Evelin. Even if her town doesn't have Wifi. That is commitment, people.
(Photo Credit TLC)
What do you think of our four couples so far? Who's going to make it, and who's headed for disaster? Weigh in with comments below!
Check out my recaps of 90 Day Fiance, Love After Lockup, Real Housewives – and more! – on my podcast, Pink Shade With Erin Martin (iTunes, Stitcher, Google Play, Spotify, Castbox, Acast). And join my Pink Shade Facebook Group to dish about reality TV all week long!
---