90 Day Fiance Premiers To Mixed Reviews
What's your opinion of the new cast?
Ashley Hoover Baker November 4, 2019 11:44am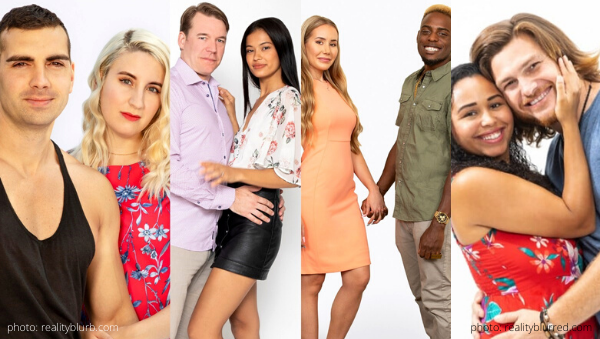 90 Day Fiance is back! The seventh season of TLC's hit show premiered to mixed reviews from fans. The cast made their tv debut on Sunday night. Fans were quick to take to social media to dish on this season's seven new couples. Fan favorites have already been identified, as well as other couples that were not as well received.
Oh God, these new couples are a hot mess #90DayFiance pic.twitter.com/YzxFuILpvY

— Kait 🇨🇦❤️ (@1Band1D1Dream) November 4, 2019
Let's start with the positive. The buzz (pun intended) around Anna and Mursel's relationship is starting off on the right foot. The couple that met on a beekeeper Facebook group may have a language barrier, but fans seem to like them both.
Does Mursel not give people Forrest Gump vibes? Like innocent and sweet and clueless #90DayFiance pic.twitter.com/6XpsrLdDtb

— FolkLaure (@_folklaure_) November 4, 2019
Does anyone else think Mursel will be the season's sweet fop like Asuelo was?
The extent of Anne and Mursel's relationship:

Anna: Bees!

Murcel: pic.twitter.com/FEH24ujdbV

— JC (@jaub81) November 4, 2019
Now, the most unpopular couple: Michael, 41 (I'm going to need to see a birth certificate, as he looks muuuuch older than 41) and his 20 year old Brazilian model girlfriend, Juliana. Fans were skeptical after Michael felt a need to assure others that his girlfriend is 'not a prostitute' (which, to me, makes me think she absolutely IS a prostitute), but the off-vibes didn't stop there.
I've finally figured out who this guy reminds me of #90dayfiance pic.twitter.com/VembiFC2KS

— Ivy (@IvyLeigh_dancer) November 4, 2019
The wealthy businessman has two children – and as his son pointed out – they are closer to Juliana's age than their father's. A fan commented on social media, "Michael, why do you think Juliana wants 2b tied down with young kids at her age? And why on earth do think your children want to be made to endure her?" Another fan added, "Michael's son and daughter are so smart and mature for their ages! It was funny when his son said that Juliana is 'one of us' because she is closer to their age than to Michael's."
So Michael met Juliana when she was 20 and by the time she comes to the USA she's 22… He's also been divorced for 2 years?!#90DayFiance pic.twitter.com/gDuDCH4wI8

— Lisa Rose. (@lisa_toes) November 4, 2019
I love a shady trip to the library as much as the next gal, so this filled my dark heart with glee.
Can't wait to see Max read his dad every week 👏🏻👏🏻👏🏻 #90dayfiance pic.twitter.com/Rj8WqtECPQ

— 🍁Suplex Kittay 🍂 (@SuplexKittay) November 4, 2019
The aspect of the show that has fans most upset is the fact that parents introduce their children to their online sweethearts so quickly.
Im so sick of these bitches bringing strangers into their children's lives. I'm about to send all the seasons of this show to CPS…. #90DayFiance pic.twitter.com/0Yd34IV518

— RealTVaddict (@t_vaddict) November 4, 2019
Why are these couples moving in strangers with their children #90DayFiance pic.twitter.com/re0gsKUUkw

— lisa (@lisa52862291) November 4, 2019
#90dayfiance
WHATS SAD ABOUT ALL THIS BULLSHIT
IS
THE KIDS THAT GET INTERTWINED
WITH THE PARENTS BULLSHIT
AND U KNOW WHO
IT HURTS THE MOST
THE KIDS
UR PRIORITIES SHOULD BE FOCUSED
ON THE KIDS
NOT ABOUT
UR FUCKED SEX LIFE pic.twitter.com/pxZrx2hDSv

— SmArTyCaT (@highwayranger75) November 4, 2019
If you can't get enough of all things 90 Day Fiance, you need to check out the Pink Shade with Erin Martin podcast. She has the funniest 90DF recap out there! Click here for an episode she did recently that focused on Before the 90 Days.
Which couple are you most excited to watch? Which couples could you live without? Sound off in the comments!
---