90 Day Fiance Break Up
Aladin Jallali confirmed that he his wife, Laura, have split.
Ashley Hoover Baker October 23, 2019 4:19pm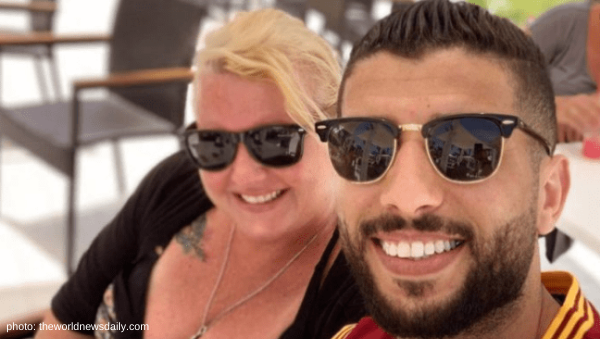 90 Day Fiancé: The Other Way stars Aladin Jallali and Laura Jallali have called it quits. Aladin shared the news on his Instagram story when he responded to a question from a follower if he and Laura were still together. "No. Definitely not," he replied. "But I wish her no harm and wish her good luck with her future men."
Aladin isn't the only one talking… Laura went on the Bring Me Your Torch podcast to address what exactly happened between she and her husband in more detail. "Aladin has always been a bit controlling, but Aladin had a very big personality change when we went to Tunisia this summer for the three-day wedding." Laura continued, "A huge difference from his personality."
She didn't stop there. She says the viewers didn't see what went down when they were in Africa. Laura claimed she didn't have anybody to speak to, as "she was sequestered off into a room and Aladin would leave for hours at a time to hang out with friends and get his haircut," according to reports from E! Online.
Aladin didn't take her out, so she went to the pool by herself. As per E! Online, "that was a turning point in the relationship, she said, as was when she lost her pension. Once she lost her pension, she said she told Aladin that she could not sponsor him and bring him to Canada and that's 'when I got to see the real Aladin. That's when he totally changed on me.'"
On the Bring Me Your Torch podcast, Laura explained, "It was only when some financial difficulty that this very different side of Aladin appeared and he wasn't a nice person. He wasn't the guy who I married. And I started to see his agenda for everything. It broke my heart. It broke my family's heart too. We were just really shocked."
Laura is trying to stay positive during this tough time. "Sometimes things are a blessing in disguise," Laura said on the podcast. "Although I was really hurt and devastated with my marriage ending, I was glad that I never made that 10-year commitment of being Aladin's sponsor."
For all of the latest 90 Day Fiance news, updates and recaps, check out the Pink Shade With Erin Martin podcast. Click here to listen to Erin's hilarious take on her most recent episode!
Whose side are you on? Leave Team Laura or Team Aladin in the comments!
---