90 Day Fiance: Karine Staehle Claps Back After Paul Staehle Accused Her Of Leaving The Baby With Him
Karine denies running away with another man, leaving baby behind.
Ashley Hoover Baker December 25, 2019 1:04pm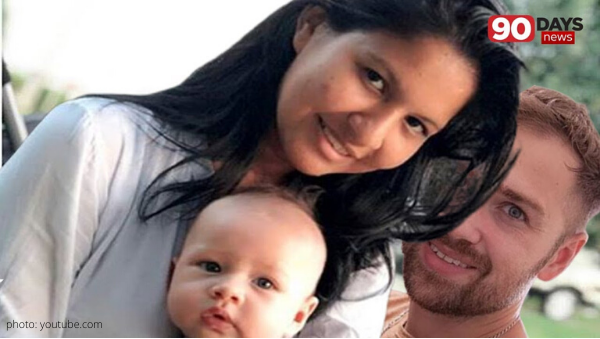 90 Day Fiance alum, Karine Staehle, claps back after Paul Staehle accused her of leaving baby Pierre with him amid their marital issues. Karine and Paul shared two different versions of what's going down between them.
Let's start with Paul, since he's the one who publicly commented on his relationship status with his wife of two years…
According to In Touch, Paul chatted with blogger John Yates via Instagram Live to dish the dirt about Karine. "She's got a new man in her life that she may be spending the holidays with: local musician Blake Sakal. However, Karine has also shared her side of the story and she denied Paul's allegations."
"So they've been friends," Paul explained to Johnny on Instagram Live, addressing how Blake's relationship with Karine made him feel uncomfortable. Paul added that Karine has liked almost every  post on Blake's Insta since 2012. He continued, "I want her to have friends. I want her to socialize," despite his gut feeling about her relationship with Blake.
Now to Karine's side of the story…
Reports from In Touch state, "Shortly after Paul's interview, his former flame took to Instagram Stories with a message denying his claims. 'I want to make it clear that I do not [sic] run away with another man, nobody knows what I go through and the way that Paul lied about me in a Live show that I must get strong and seek my rights,' Karine wrote in her statement, which was translated from Portuguese."
"I will not talk about my personal life," Karine continued. "I never told Paul he won't see Pierre, on the contrary, I have proof that I say Paul has right [sic] about his son too. Do not accuse me without knowing my life. Personal problems should not be spoken on Instagram, forgive me."
This isn't the first time Paul took to the 'gram to air his dirty laundry. He teased that Karine threatened him with a divorce last month. Click here if you need a refresher.
If you love all things 90DF, you should subscribe to the Pink Shade with Erin Martin podcast. Click here to listen to Erin chat with Molly and Cynthia from Pillow Talk!
Do you think Paul and Karine will make it work? Drop off your opinion in the comment section.
---