90 Day Fiance: Colt Johnson's D!ck Pic
Larissa laughs that her husband is more 'biggye'!
Ashley Hoover Baker December 28, 2018 11:37am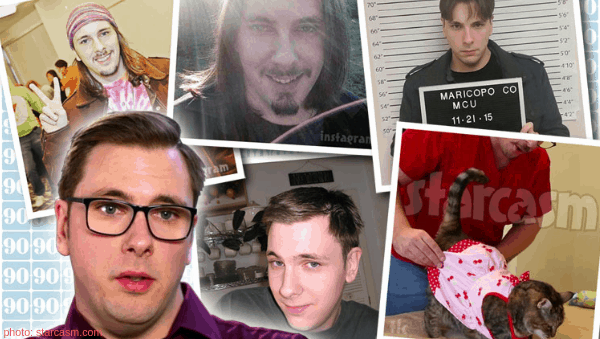 The internet has been a buzz since news that a penis picture, aka d!ck pic, of 90 Day Fiance's Colt Johnson was 'leaked'. Holy double entendre, Batman!
One of Colt's "girls" just showed the free world his package. Two things – A) I just gained a ton of respect/sympathy for Larissa and B) if anyone needs me I'll be at the hospital where a team of world renowned eye doctors will be attempting to reattach my corneas. #90DayFiance pic.twitter.com/KahoYv3s9y

— John Yates (@JohnYates327) December 27, 2018
Like Valerie Cherish, I Don't Need To See That!
I'm a member of a few 90 Day Fiance fan pages and people were going crazy over the pictures of Mr. Johnson's Johnson. I couldn't believe how many people were desperate for an unedited version of Coltee's goodies. To me, it was like driving by a car accident. I don't want to see it, but I can't help but look.  Car accident = Colt's d!ck pic. It's TOTALLY the same thing.
There were many d!cktectives on the case, this was my favorite finding…
Proof that Coltie's Dic Pic is real! Don't worry, it's blocked out! same shirt, same sink! from 90dayfianceuncensored
Thank heavens that was photoshopped and I don't have to call animal control. Like Colt, I live in Las Vegas, and that poor kitty wouldn't stand a chance.
After a load (I'm sorry) of speculation, Larissa Dos Santos Lima admitted to the pic being a fakee according to this screen shot that went viral, that has since been taken down.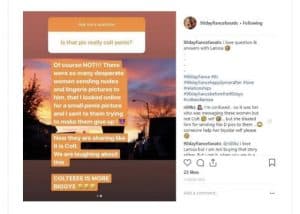 Larissa's reason for posting the petite penis pic? The Brazilian bombshell's reasoning was that if the women her husband was flirting with online would see his teeny tiny tool, they would stay away from his shed. Alright…
Meanwhile, back at the ranch with Debbie and the cats, Larissa and Colt are laughing together at all of their fans losing their minds over the fake news created by Larissa, the lady who deserves true compliments. Does this mean the newleweds are trying to work through their issues? We are going to have to stay tuned to see how this love story progresses!
What are your feelings on Larissa sharing a fake d!ck pic of her husband? Do you think her joke was funny? Is the couple trying to hard to stay in the public eye? Let me know what you think about this dynamic duo in the comment section. 
---