6 Real Housewives of Orange County Hotspots To Visit!
A little Housewives inspiration for your next OC visit!
Lara Sophia July 20, 2018 11:08am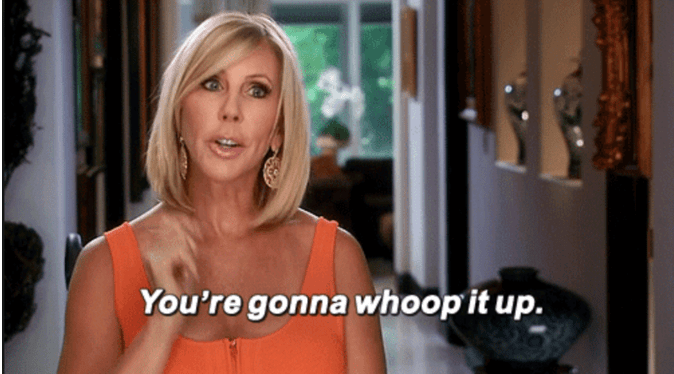 Let's get REAL there's really no bad time of year to visit the OC but certain OC hotspots just scream summer summer summertime! So, if you happen to be in the OC this summer, or anytime really, these are the 6 spots you MUST visit! And don't worry all of these hotspots have the Real Housewives of Orange County seal of approval and have been featured on the show!
A super cute swimsuit is a MUST if you're going to hit the beach in the OC! The RHOC love shopping till they drop at Molly Brown's Swimwear. Molly Brown's is the go-to boutique for high-end specialty swimwear, beach apparel, and accessories. This is your one-stop shop for the perfect OC beach look and the best part is you might just run into a Housewife or two while shopping!
After scoring your perfect beach look you'll want to make sure your beach body is looking it's best. Channel your inner mermaid and head on over to Bliss Paddle Yoga where you can get your zen on in the Pacific Ocean. Bliss Paddle Yoga will help you get the healthy and happy OC lifestyle you didn't know you were missing!   
If Paddle Yoga wasn't enough of a workout then you must try running the stairs at 1000 Steps Beach à la Tamra Judge and Heather Dubrow. Or if that sounds like way too much work you could just catch some rays at the beach. 1000 Steps Beach is the perfect spot for "surfing, body surfing, volleyball and some good ole sunbathing."
Whew! It's time for relaxation and rest! When you've had enough fun check into the Sand and Surf Resort for some much needed R&R. The Sand and Surf Resort gives you the best parts of the OC lifestyle all in one place. Meditate on the beach or go for a walk. Take a little cat-nap on your balcony overlooking the ocean. Or if that's not relaxing enough hit up the spa for a cucumber melon body scrub or an aloe body wrap. Ahhhh, pure bliss.
THE ROOFTOP LOUNGE AT LA CASA DEL CAMINO
For dinner, you'll want to hit up The Rooftop Lounge at La Casa Del Camino. With to die for panoramic ocean views, delicious food, and yummy drinks The Rooftop Lounge at La Casa Del Camino is the quintessential OC restaurant. You'll feel just like an OC Housewife as you sip fresh fruit Mojitos while watching a spectacular sunset. Whether you come to The Rooftop Lounge at La Casa Del Camino for brunch, lunch, or dinner you guaranteed to get a bite of the casual California lifestyle. Leave your worries at the door and drink up!
Nights in the OC don't end after dinner. If you really want to get a taste of the OC lifestyle then you have to check out their amazing bar scene. An OC favorite is The Quiet Woman, which was infamously featured on the RHOC. The Quiet Woman is the perfect place to dine, drink, and play. With a cocktail menu that will make your head spin The Quiet Woman has something for everyone. Want a spicy skinny margarita? You got it. More of a scotch fan? Covered. In need of a Martini STAT? You've got 9 signature martini's to chose from! Settle in, grab a drink, maybe a bite to eat, and don't be surprised if you see your favorite OC Housewife is in the booth next to you!

Click HERE for all the bars, shops, and RHOC restaurants!
---