Top 5 Restaurants in LA and NYC to Celebrate #NationalTacoDay!
One of our fav # holidays!
Dana Escamilla October 4, 2017 9:20am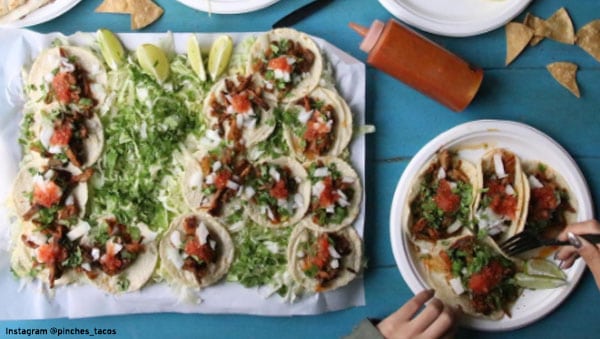 This is the national #holiday everyone's taco-ing about! If you're looking for local places to chow down on delicious tacos, check out the top five restaurants in LA and NYC that will make your taste buds say olé!
Los Angeles
On the quest for the best tacos in Los Angeles? From fish tacos to late night tacos check out this list of LA spots that have been on LHHH, KUWTK, The Hills and more!
Baja Cantina – Specials include Happy Hour street tacos and fresh fish tacos paired with inventive salsas. Menu
Casa Vega – Enjoy authentic tacos as part of a house special entree or a-la carte. Menu
Hugo's Tacos – Choose from hard or soft shell tacos with 7 fillings, 7 salsas for an infinite variety of choices. Menu
Pinche's Tacos – Strive to provide the best taco experience by using quality meats, fresh vegetables, handmade tortillas. Menu
Te'Kila – Soak up the tequila with their vegetarian and meaty taco options.  Menu
Need even more recommendations for tacos? Check out this guide from Eater on The 31 Essential Los Angeles Tacos.
New York City
Taco Bell New York doesn't count when it comes to finding the best tacos in New York. Here's a list of twisted and California-style taco spots that have been on RHONY, Mob Wives and LHHNY.
Agave – Try the specialty fire-grilled shrimp tacos with harvest corn and smoked tomato or other creative taco entrees. Menu
Dos Caminos – Known for their signature asada tacos, Mexico City style quesadillas, fresh guac and killer margaritas. Menu
Ho'Bra – Surf-themed cafe specializing in California-style tacos. Menu
Made In Mexico – Taste a fusion of new and old Mexican flavors.  Menu
Salvation Taco –  The taqueria boasts Mexican fare mixed with a global twist. Menu
Looking for more top taco spots in NYC not on the list? Check out this guide on the 38 Killer Taco Spots in New York City.
If you're looking for national places serving up deals for National Taco Day check out this list of where to get discounted tacos!
---