#4 RHONY Dorinda-isms, Erin Martin from Pink Shade
If you're not listening to our podcast... 5,4,3,2,1 you're not dating Rocco!
Troy Turner April 26, 2018 11:19pm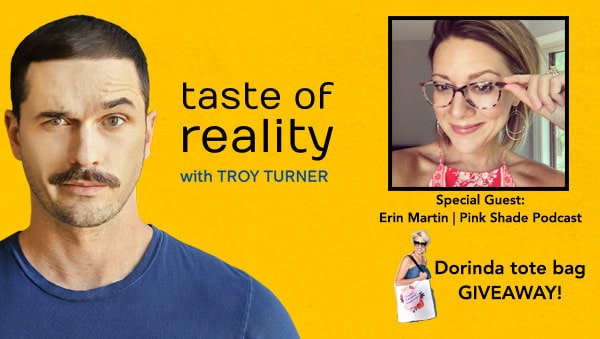 Podcast: Play in new window | Download
Subscribe: Apple Podcasts | Google Podcasts | Stitcher | Email | RSS | More
In episode #4, Troy delivers the week's reality TV news, talks about his favorite Dorinda-isms of all time and recaps the RHONY: War & P.O.S. episode with the hilarious Erin Martin from the Pink Shade Podcast! She also talks all about starting a podcast, growing up in a cult and following in the footsteps of the RHOC in Costa Rica. OH! And listen to find out how to WIN the weekly giveaway – a Dorinda Medley "I Made It Nice!" tote bag!
Sound off in our Facebook Group and follow us:
Web: https://tasteofreality.com
FB Group: https://facebook.com/groups/2002217393430171
Facebook: https://facebook.com/tastereality
Instagram: https://instagram.com/tasteof_reality
Twitter: https://twitter.com/TasteOf_Reality
___
Go to Erin's website for links to episodes, articles, videos, and merchandise: PinkShadeWithErinMartin.com
Join the Facebook group: Pink Shade With Erin Martin
Follow Erin on Twitter @ErinLeahMartin & Instagram @erinleahmartin
Check out Erin's recaps on RealityTea.com & 22Words.com
Join Patreon for bonus content: Pink Shade Patreon Page
Tune into The Jenny McCarthy Show on ch 109 of SiriusXM Stars every week for Erin & Jenny dishing on Real Housewives Roundup!
---