35 Unforgettable Real Housewives GIFS!
Troy Turner October 11, 2017 8:06am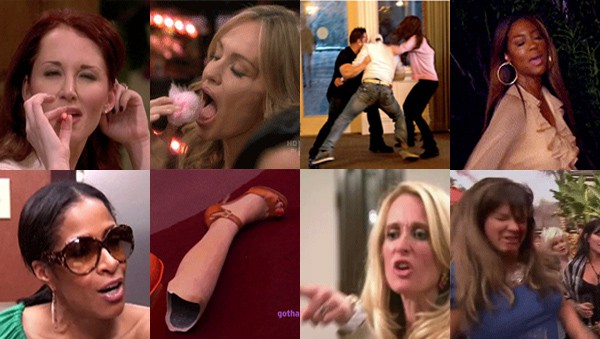 From unforgettable catfights to flying tables and legs… in no particular order, these are the most memorable moments in Housewives herstory!
1 . The Dinner Party from Hell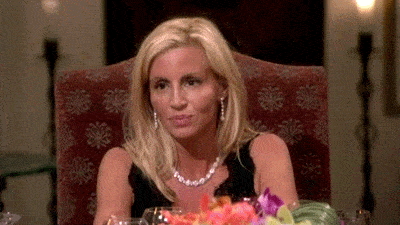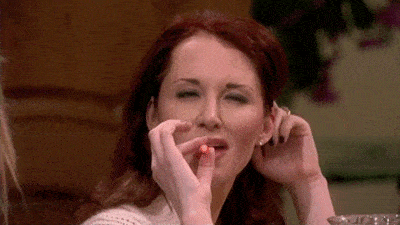 This Real Housewives of Beverly Hills Gif perfectly captures Season 1 Camille AKA everybody's favorite Camille Grammer… and her psychic friend Allison Dubois was the cherry on top of that crazy cake! Check her out on our RHOBH Tour!
2. The Underground Railroad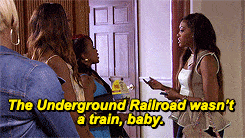 Who could forget this Real Housewives of Atlanta Gif? — Porsha. Sweet, sweet, Porsha Williams. Only she could make ol' Harriet role over in her grave on The Freedom Trail Tour in Savannah, Georgia. Get tickets here.
3. The Leg Throw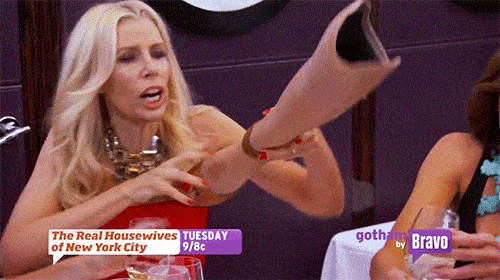 In Real Housewives of New York Season 6 Episode 21, Aviva Drescher got a leg up on the other ladies… literally. Planned or not, she got us all to gasp with that flying fake leg at Le Cirque. Check it out on our RHONY Tour or make a reservation.
4. Wine by on Wives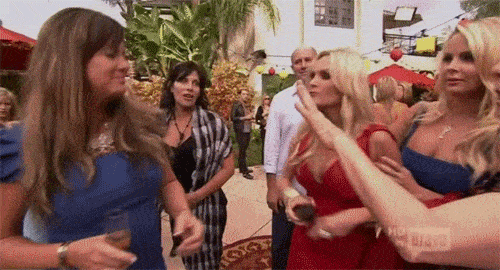 Tamra Judge started the wine/glass throwing tradition in this awesome RHOC Gif from way back on Season 6 Episode 13 with Jeana Keough . Here's to hoping it doesn't go anywhere soon! Also, check out all the wineries that have been on Real Housewives.
5. I'm Rich B***h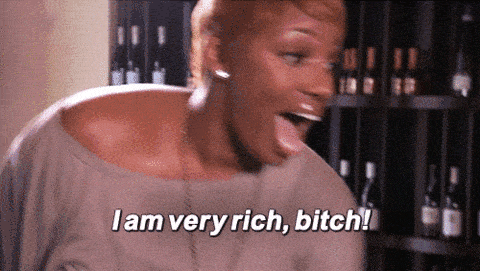 In this NeNe Leakes gif, she didn't mind waving her so-called Trump checks around during her fight with Sheree Whitfield, but she has had less than flattering things to say about the "Orange Man" lately! BTW this happened in Atlanta's upscale Atlantic Station.
6. Slut Pig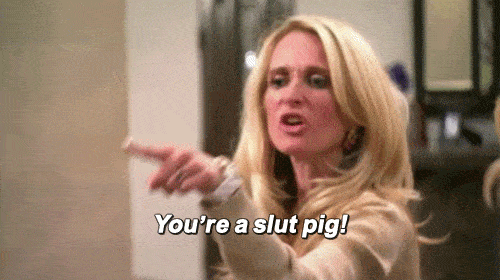 Post crystal meth/pre-shoplifting Kim Richards (allegedly!) spewed this at Brandi Glanville. It's our favorite Kim Richards gif! Kinda makes you miss the good ol' days of Real Housewives of Beverly Hills like Season 2 Episode 16.
7. Be Cool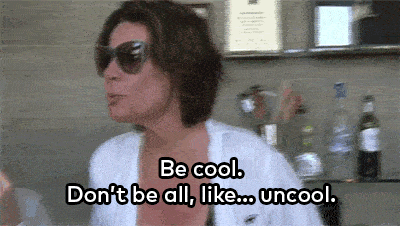 Gotta love a morning after Real Housewives of New York gif. The guy LuAnne D'Whatever  hooked up with in Turks & Caicos may or may not have been married… but it's cool. See all the places they went on their trip to the island during Season 7 Episode 13.
8. The Table Flip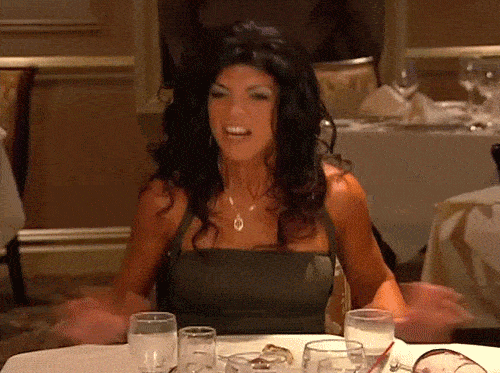 Who can forget this doozy from RHONJ Season 1?! If you visit, LuNello politely asks you save the table flipping for prison. Check it out on our RHONJ Tour! Also, who knew Teresa Giudice and Danielle Staub would be able to turn things around after this?!
9.  Who 'Gon Check Me Boo?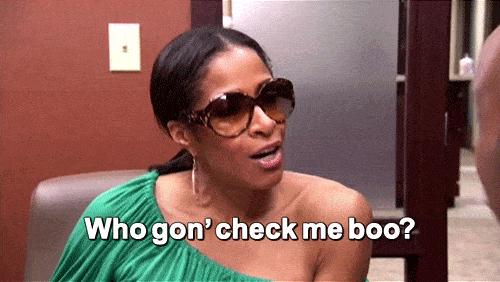 The quintessential Sheree Whitfield gif! If you saw this on Season 2 Episode 1, you know you've caught yourself muttering the phrase "whatever happened to customer service?" — On that note, whatever happened to party planner Anthony Shorter?
10. You Get the F Out!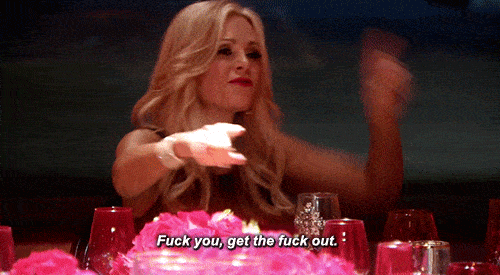 A BIG part of us loved watching Alexis Bellino beat it after Tamra Judge threw her out of CUT Fitness. We could re-watch it on this Real Housewives of Orange County gif over and over! Sayonara Jesus Jugs! (Check out our visit to CUT Fitness with Eddy! (BTW he's not gay btw, because Todd Chrisley said so.)
11. Alcoholics and Thieves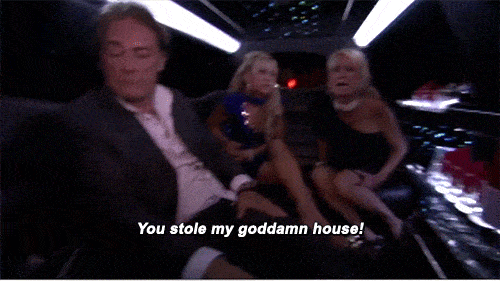 Clearly, kleptomania runs in the family for Kim and Kyle Richards. Re-watch the fight from RHOBH Season 1 Episode 16!
12. Scary Island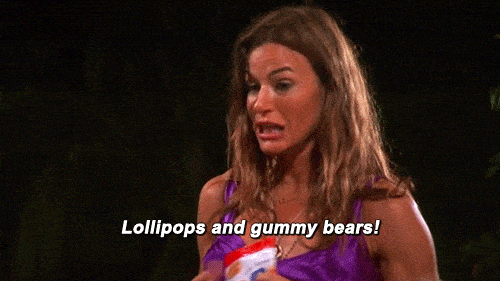 We're kookoo for crazy Kelly Bensimon and the bizarre mental breakdown that happened on St. John island. You can stay at their lux villa: Presidio del Mar! Thanks for this silly RHONY gif, Kelly!
13. P********** W****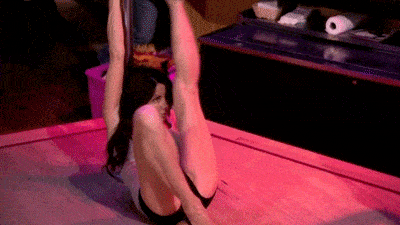 Congrats. Your eyes have an STD. Courtesy of Danielle Staub.
14. Let's Talk About Your Husband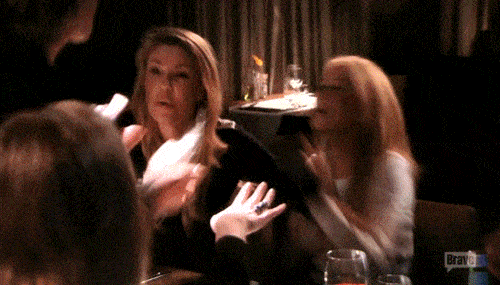 Classic case of what happens when you mix alcoholics alcohols. That's Lisa Rinna getting lippy with Kim Richards on RHOBH Season 5 Episode 15. Anywhoooo, see all the places they went in Amersterdam like this restaurant called Werck!
15. The Original Wig Snatch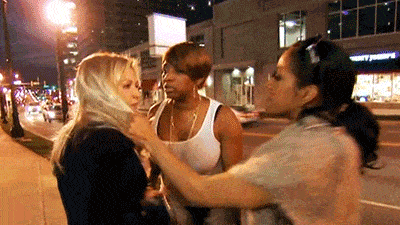 The mother of all Real Housewives of Atlanta gifs! Sheree Whitfield is one strong woman so you know Kim Zolciak-Biermann's wig was glued on tight! Check out the famous F&B Restaurant where the fight went down… then twirl onto our Real Housewives of Atlanta Tour!
16. Sonja's New Hole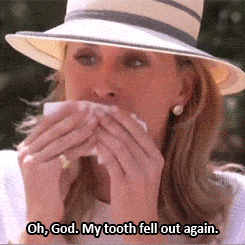 Holy molar! We knew Sonja Morgan was loose… but her tooth, really?! This Real Housewives of New York Gif is from Season 7 Episode 17. — Find out what it's like in A Day in the Life of Lady Morgan!
17. White House Crashers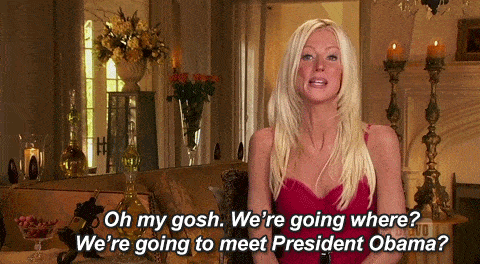 The Real Housewives of DC might have just been a blip in the Housewives franchise (though we still love the fab Cat O'Manney), but there's no forgetting Michaele and Tareq Salahi's totally bizarro Obama obsession. They really made waves with that infamous White House breach!
18. When Joes Collide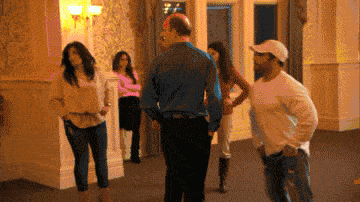 Rumor has it you can still find smatterings of Joe Gorga's black hair product on the walls of the Inn at Erlowest in Lake George, NY! Very few brain cells were lost during this kinda sexy moment from RHONJ Season 5 Episode 7.
19. Fighting Faces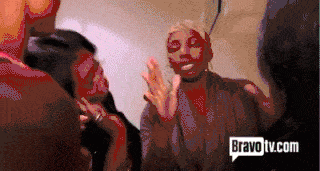 This RHOA gif will make you giggle every time! The crazy fight in Cape Town, South Africa between Marlo Hampton and Sheree Whitfield even had NeNe Leakes scratching her head! The vacation rental was pretty sweet though!
20. Showdown in the Street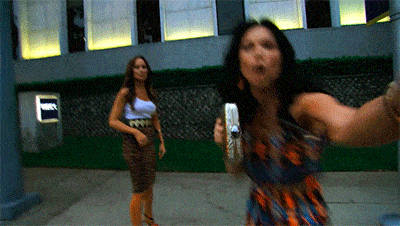 We live for this LeeAnne Locken gif! Yes, she might be a camera-attacking circus freak, but we love her for it! Re-watch the moment from RHOD Season 1 and then read our loaded interview with LeeAnne!
21. This 'Lil Sonjarita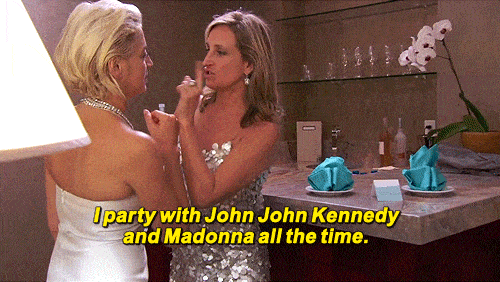 She sees dead people. She also cringes every time she sees this RHONY gif! Apparently, Carole Radziwill saw red when she heard about Sonja Morgan's drunken John John Kennedy rant!
22. Pump-slapped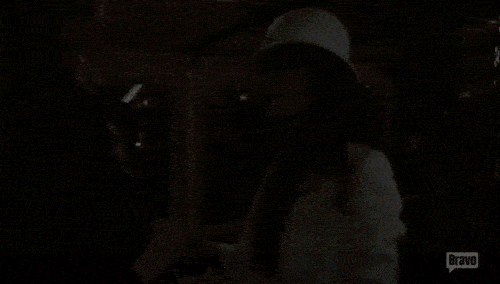 OH, PLEASE. Don't act like you haven't fantasized about doing the same thing at times! See more hot spots from Brandi Glanville and Lisa Vanderpump's trip to Amsterdam.
23. GWTWF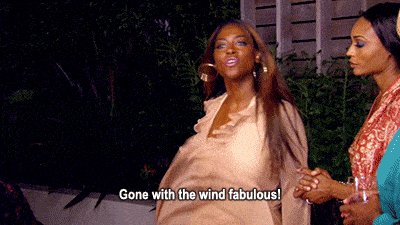 Thanks to Kenya Moore who went absolutely koo koo and left us with this little gem! This Gone With the Wind Fabulous gif happened at the Ani Villas in Anguilla – see all the places from their vacation here!
24. Just to Name a Few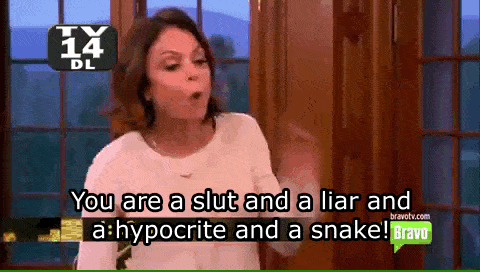 Bethenny Frankel has a special way of saying 'Happy Holidays'. Why is it always Dorinda Medley's house?! On that note…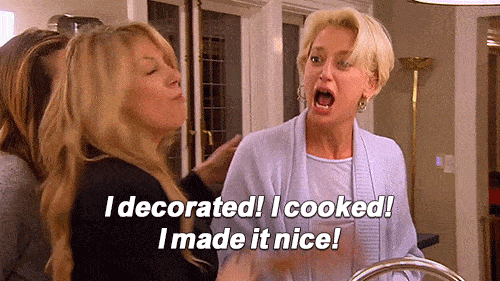 This I Made It Nice Gif is appropriate for so many occasions!
25. This Miami Melee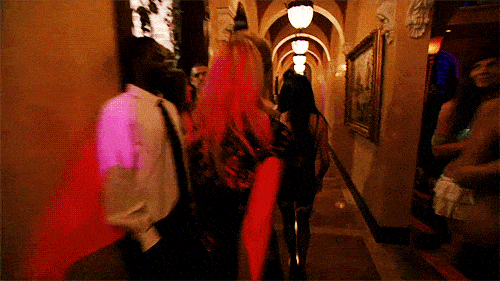 Botox for brains! Adriana De Moura VS Joanna Krupa is the most surprising slap since Real World's Irene/Stephen! According to TMZ, they're bringing Real Housewives back to Florida!
26. Cotton Candy Seduction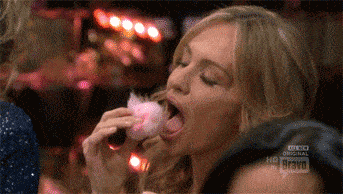 Thanks to this Taylor Armstrong gif, we'll never look at cotton candy the same way. This happened at Adrienne Maloof's hotel, Palms Casino Resort, in Las Vegas!
27. Pajama Party Pandemonium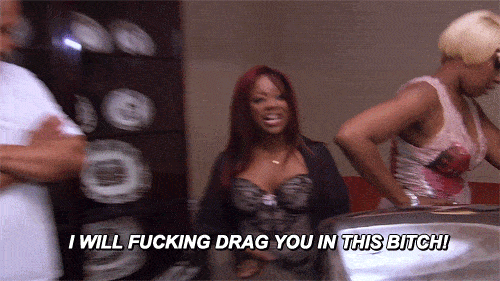 Kandi Burruss' not-so-sweet side came out at NeNe's pajama party at the InterContinental Hotel in Buckhead. Things actually did get physical in Season 6 Episode 13 but that's a whole 'nother RHOA gif.
28. Crazy Eyes Catwalk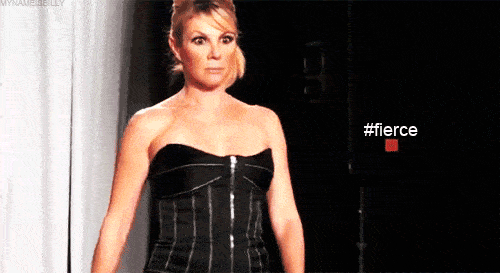 Quite possibly our favorite Ramona Singer gif! It's from her eye-popping performance in RHONY Season 3!
29. You Will Never See My Face Again (until tomorrow)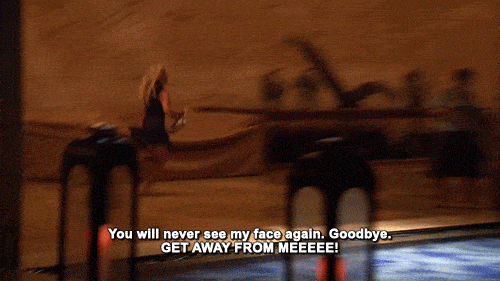 Eat. Pray. Run. — See more filming locations from the RHOC trip to Bali in Season 9 Episode 16 and Episode 17.
30. Just. No.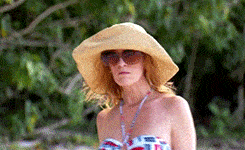 The only thing scarier than Scary Island. The invariably awkward Alex McCord, everyone. — If this Real Housewives of New York gif isn't enough for you, re-live her awkward beach moment with Kelly Bensimon here!
31. Dumb Hoe!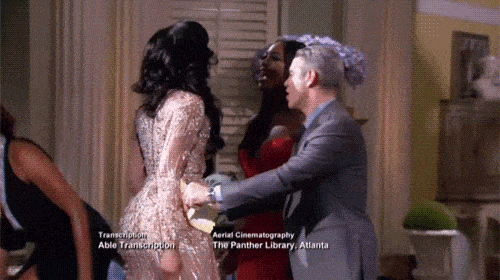 The best Real Housewives fight gif ever?! Perhaps. The RHOA Reunion always delivers!
32. The F*****G Truth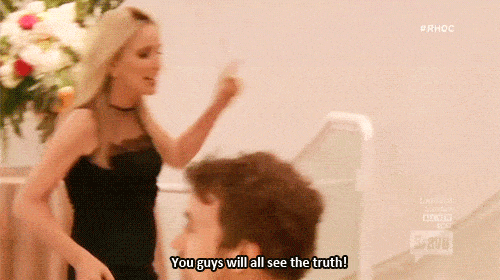 You might not recognize her, but that's THE Shannon Beador gif! No shade, the girl is looking good again!
34. That Singer Stinger!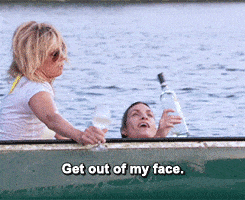 This magical moment between Ramona Singer and Kristen Taekman one of the better Real Housewives wine throwing gifs! But seriously, violence is about as cool as catching your husband on Ashley Madison!
35. And?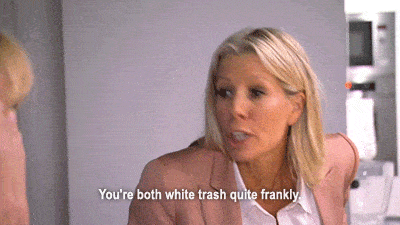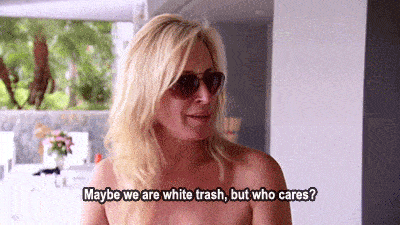 Gotta love a good Sonja Morgan gif! Check out our Real Housewives of New York Tour!
---