#3 Housewives Divorces, Joleen from Married to Bravo
If you aren't listening to our podcast... CLIP!!
Troy Turner April 19, 2018 10:41pm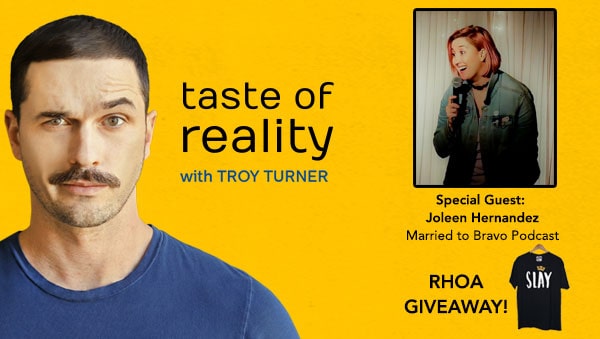 Podcast: Play in new window | Download
Subscribe: Apple Podcasts | Google Podcasts | Stitcher | Email | RSS | More
In episode #3, Troy runs through the week's reality TV news (including Dorit leaving RHOBH), talks about the insane amount of divorces in Housewives history and has an EXCLUSIVE interview with Joleen Lunzer Hernandez from the Married to Bravo podcast! She spills on what's it's like to torture her husband by making him watch and recap Bravo shows, shares her opinion on the Housewives and gives some sage advice for Madison Marie Parks Valetta. OH! And listen to find out how to WIN the weekly giveaway!
Sound off in our Facebook Group and follow us:
Web: https://tasteofreality.com
FB Group: https://facebook.com/groups/2002217393430171
Facebook: https://facebook.com/tastereality
Instagram: https://instagram.com/tasteof_reality
Twitter: https://twitter.com/TasteOf_Reality
____
Housewives of Splitsville Article: https://tasteofreality.com/real-housewives-divorces/
Married to Bravo Interview: https://tasteofreality.com/say-i-do-to-married-to-bravo-podcast/
Married to Bravo Podcast: https://palegurl.com/category/married-to-bravo-podcast/
---